Optometry Giving Sight Leads Coalition in Support of World Sight Day
Thursday, September 15 2016 | 00 h 00 min | Press Release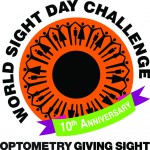 Denver, CO – Leading North American optometric companies, networks, schools and practices will once again join forces in a coalition led by Optometry Giving Sight in support of World Sight Day (October 13th) and the World Sight Day Challenge, which runs throughout September and October.
This is the 10th year of the Challenge, which encourages all members of the vision care community to make a donation or participate in a fundraising event to help fund sustainable eye health projects for people who are needlessly blind or vison impaired. This year will have a specific focus on the need for effective, sustainable eye health initiatives for children and adolescents as part of the Our Children's Vision campaign.
Coalition members include ABB Optical Group, Alcon Foundation, AllAboutVision.com®, Bausch + Lomb, CooperVision, Essilor, EyePromise, FYidoctors, Vision Source®, VOSH International and VSP Global®.
They will be joined by A&A Optical, Acuity Pro, Advance Optical, Allergan, Amcon, Art Optical, Bard Optical, Clearvision, DAC Vision, De Rigo REM, Europa, Eye Recommend, GPLI / CLMA, Heidelburg, Hilco, Jobson, Johnson & Johnson Vision Care (Canada), Linden Optometry, Match Eyewear, MODO, Nikon/Elaine Turner, Optos, OSI, PECAA, Primary Care Optometry Magazine/Slack Inc., Reptile Sun, Ron's Optical, RX Optical, Signet Armorlite, Synergeyes, Texas State Optical, Tura, Vision One Credit Union, VmaxVision, Wave Contact Lens, Westgroupe, White Ophthalmic Supply Ltd, Wiley X, and ZEISS (Canada), all of whom are participating in the Challenge in some way. More companies, networks and practices are signing up every day.
"We are excited to be leading this industry based coalition in support of the 10th Anniversary of the World Sight Day Challenge in North America," said Clive Miller, CEO of Optometry Giving Sight. "We are grateful for the support that we receive and encourage all eye and vision care companies, networks, schools and practices to take the Challenge and make a donation so that we can help end avoidable blindness and give sight and hope to the millions of people – including children and adolescents – in need."
For more information about the World Sight Day Challenge, or to make your donation today, please visit givingsight.org
To read full press release click HERE.