2016 Silmo d'or Winners
Monday, September 26 2016 | 00 h 00 min | Awards, News, Press Release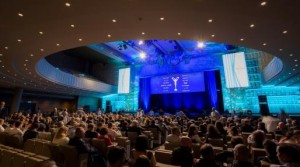 The jury attributed the prizes. Elegant yet festive, the evening party to unveil the winners of the 2016 SILMO d'Or Awards was held at the "Maison de la Mutualité" in Paris on September 23, 2016.
Here are the 2016 winners:
"Children" Category
KNCO – "Bili" by Karavan Kids
"Sport Equipement" Category
DEMETZ – "Lazer-Run"
"Low Vision" Category
special prize: VISIOLE – "Go Vision"
ex aequo: ESSILOR – "My Eye"
ex aequo: CECIAA – "NuEyes"
"Frame Technological Innovation" Category
OXIBIS GROUP – "77H" by Exalto
"PREMIERE CLASSE" Prize
PRIDE EYEWEAR – "305 BL"
"Material/Equipment" Category
NETLOOKS – "Netlooks 3D"
"Vision" Category
ESSILOR – "Eye Protect System"
"Sunglass" Category
PARASITE DESIGN – "Anti Retro X"
"Optical Frame" Category
BLAKE KUWAHARA – "Khan"
Click HERE to view full press release and images.