Essilor and Optometry Giving Sight Announce Student Loans in Malawi
Monday, April 17 2017 | 00 h 00 min | News, Press Release
(Denver, CO). Essilor of America and Optometry Giving Sight have announced the recipients of study loans for students of Optometry at Mzuzu University in Malawi, Africa.
The loans will cover full tuition and living costs for the five years of the Bachelor of Vision Science, commencing in this Academic Year.
Dr. Purcell visited the program in November 2015 and was highly impressed with the School of Optometry, which was established in 2009 and has so far produced 35 graduates. There are currently 71 students enrolled in the program.
The Optometry Development program in Malawi is an initiative of the Brien Holden Vision Institute, Mzuzu University, Malawi College of Health Sciences and Optometry Giving Sight. The current Head of School at Mzuzu University is Dr. Sara McGowan, a graduate of UAB.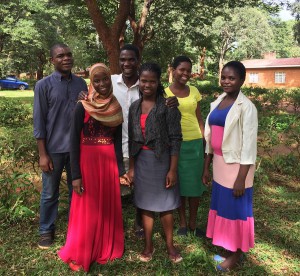 The recipients of the Student Loans are (pictured from left to right): Adson Mitochi, Mariam Aliya, Gibson Nkhwekwe, Kettie Lozario, Tambuzai Liyo, and Thandiwe Nyirenda.
To read full press release, click HERE.