Transitions Hosts Panel on Millennials and the Need for Sun Protection
Wednesday, April 26 2017 | 00 h 00 min | News, Press Release
Pinellas Park, Fla. – On April 24 in Ottawa, Transitions Optical brought together experts in eye and skin health to discuss and explore the needs of today's Millennials and their understanding of and attitudes toward protecting themselves from the sun. The panel featured perspectives of eye care professionals from the Transitions Change Agent program as well as representatives from the Canadian Association of Optometrists, Canadian Dermatology Association, Canadian Ophthalmological Society and Opticians Association of Canada.
A range of topics were discussed, including Millennial knowledge and misperceptions of different types of light, options for protection and what can be done to further increase education around sun protection.
The panel was moderated by Dr. Pete Kehoe, Professional Development Advisor for Transitions Optical.
A report of discussions from the panel will be included in a consensus paper, which is currently in development and will be available on the newly launched Transitions PRO tab on Transitions.com.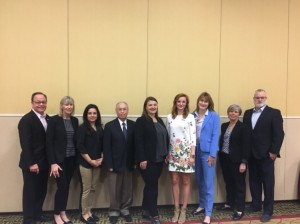 From Left to right: Dr. Pete Kehoe, Jennifer Brunet-Colvey, Dr. Setareh Ziai, Dr. Ralph Chou, Dr. Bronwyn Mulherin, Sheena Taff, Dr. Jennifer Beecker, Suzanne Joyal, Robert Dalton.
Click HERE to read the full press release.