Be Smart and Connected with Nikon's Smart Boost
Tuesday, January 16 2018 | 00 h 00 min | New Products, News, Press Release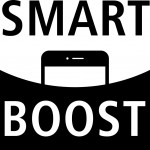 Nikon introduces a new single vision lens aimed at relieving eye strain caused by the prolonged usage of Smartphones.
Thanks to the innovation behind Smart Boost, patients can enjoy a more comfortable and natural vision:
-With a 7% magnification effect integrated in the optical design, details on the screen appear bigger making Smartphone usage easier on the eyes.
-Smart Boost is optimized with an additional +0.50D to reduce accommodation.
-Smart Boost combined with SeeCoat Blue Premium further reduces eye strain and delivers dynamic performance and optimal viewing comfort.
Visit www.nikonlenswear.ca for more information.