Transitions Names Greiche & Scaff as Canadian Retailer of the Year
Friday, February 23 2018 | 00 h 00 min | News, Press Release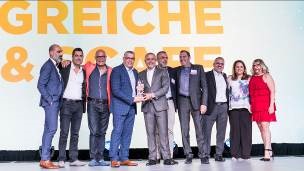 Transitions Optical honored Greiche & Scaff with the 2017 Canadian Retailer of the Year title, a category of the Transitions Innovation Awards program, during a recognition ceremony on Tuesday, Feb. 13 at Transitions Academy 2018 in Orlando, Fla.
"Early in the year, Greiche & Scaff identified that they had an opportunity to grow their Transitions business among single vision wearers and they took many steps to achieve this goal," said Drew Smith, director, North America Channels, Transitions Optical. "From secret shopper programs to specialized training, Greiche & Scaff pushed themselves to think innovatively. The entire Transitions team wishes to thank them for being a top retailer of the Transitions® brand."
Pierre Freiji, General Manager and Pierre Skaff, Senior Director of Marketing and Merchandising at Greiche & Scaff, accepted the award on behalf of the retailer at Transitions Academy.
"We work on our goals until we achieve them," said Skaff. "One way we did this was to train our staff to look to the needs of the customers from different angles and this included thinking about which of our customers can benefit from wearing Transitions® lenses. We are really proud of where we've started and where we are with our Transitions penetration today. We look forward to achieving more in 2018."
Click HERE for the full press release.