Transitions Names Opto-Réseau Winner of Best in Marketing
Friday, February 23 2018 | 00 h 00 min | Awards, News, Press Release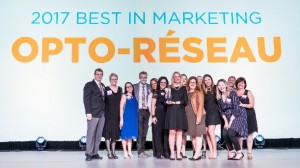 Transitions Optical honored Opto-Réseau with the 2017 Best in Marketing title, a category of the Transitions Innovation Awards program, during a recognition ceremony on Tuesday, Feb. 13 at Transitions Academy 2018 in Orlando, Fla.
"Opto-Réseau's marketing strategy in 2017 revolved around changing perceptions of who a Transitions wearer is and increasing interest in Transitions lenses among younger patients," said Drew Smith, director, North America Channels, Transitions Optical. "From social media and mail-in rebates to creating localized advertising for individual practices, Opto-Réseau successfully engaged a new demographic of Transitions lens wearers. We commend them for following their philosophy of trying new things and working hard to implement new strategies."
Annick Beauchemin, Director of Marketing, Opto-Réseau and Christine Breton, CEO, Opto-Réseau accepted the award on behalf of the company at Transitions Academy.
"Part of our marketing strategy is to constantly question ourselves so that we're not repeating the same tactics and strategies over and over again," said Beauchemin. "We worked hard to reach a younger clientele this year and spent time convincing our employees that Transitions isn't only for people who are already wearing the product. It's an amazing feeling to see our hard work pay off, and we are excited that our efforts have encouraged more people to consider and choose the Transitions® brand."
Click HERE for the full press release.