New Optical Industry Partnership Creates Experience Centre
Tuesday, March 13 2018 | 00 h 00 min | News, Press Release
Advanced Optical Solutions (AOS), a new joint-venture of optical companies, announced the formation of a state-of-the-art B2B
"Customer Experience Centre" in downtown Toronto.
Partners in AOS, including AXIS Medical, Frames Displays, Essilor Technologies and WINK software, have set up a location in the heart of trendy and historic Liberty Village in Toronto. The AOS Experience Centre will be a "showcase" practice and an optical industry meeting point designed to comfortably greet clients and display products and services in a unique setting.
The Experience Centre consists of a 1700 sq. ft. space within the historic Toronto Carpet Factory. The circa-1899 facilities have been refurbished to create an inviting and relaxing environment including ultra high-speed internet connectivity and world-class environmental sustainability features, without disrupting the charm and ambience of the era it was originally built.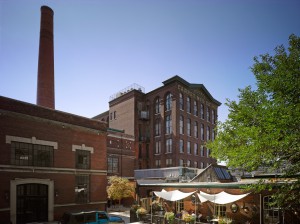 Click HERE to read the full press release.
Exterior Photos: Ben Rahn