Professor Kovin Naidoo Joins Essilor
Wednesday, October 31 2018 | 09 h 39 min | Appointments, News, Press Release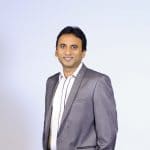 Essilor announces Professor Kovin Naidoo has been appointed Senior Vice President of Inclusive Business, Philanthropy and Social Impact. In this newly created position, Professor Naidoo will lead the Group's efforts to reach the 2.5billion people living with uncorrected poor vision through inclusive business and philanthropy.
Most recently serving as Associate Professor of Optometry at the University of KwaZulu-Natal (UKZN), former CEO of the Brien Holden Vision Institute and former Africa Chair of the International Agency for the Prevention of Blindness, Professor Naidoo is internationally celebrated as a public health leader. This year Kovin has been recognised by American Academy of Optometry with the Carel C. Koch Memorial Medal Award for his outstanding contributions to the enhancement and development of relationships between optometry and other professions.
Click HERE for the full press release.