Transitions Launches "Get the Real Thing" Contest in Canada
Friday, September 11 2020 | 12 h 06 min | Contest, News, Press Release
Transitions Optical has launched a promotion to drive awareness about the importance of making sure patients receive authentic Transitions® lenses when purchasing Transitions photochromic lenses. The "Get the Real Thing" promotion rewards select eye care professionals and patients for registering their lenses using the Transitions lens Certificate of Authenticity (COA) after receiving their lenses. The promotion will run from September 1 through December 2020.
"We know the vast majority of people who tried Transitions® Signature® GEN 8™ lenses were satisfied with them," said Patience Cook, director, North America marketing. "It's important that when patients ask for Transitions brand lenses, they receive the authentic product. The certificate of authenticity helps provide confidence to both patients and ECPs that they are getting the high-quality product they have asked for."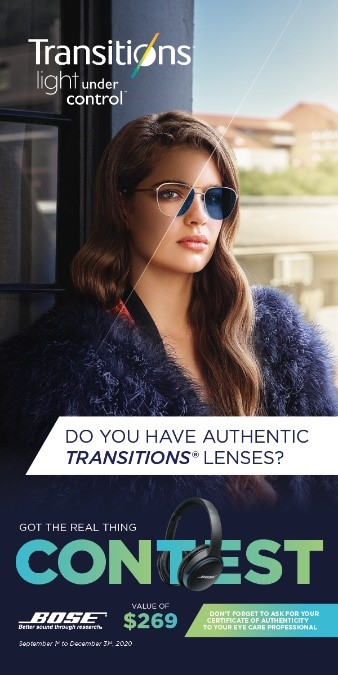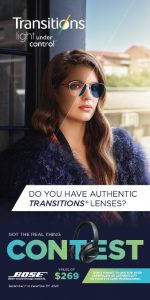 The contest asks ECPs to give patients a COA when dispensing their Transitions lenses. The eye care professional should show the patient the registration field and instructions. Once registered, patients are eligible to receive one monthly prize, including Bose® SoundLink® II wireless headphones. ECPs are eligible to win Transitions lens branded gift packs.