Eschenbach Introduces New Magno Lumina Max Lamp
Wednesday, June 8 2022 | 13 h 23 min | OptikTech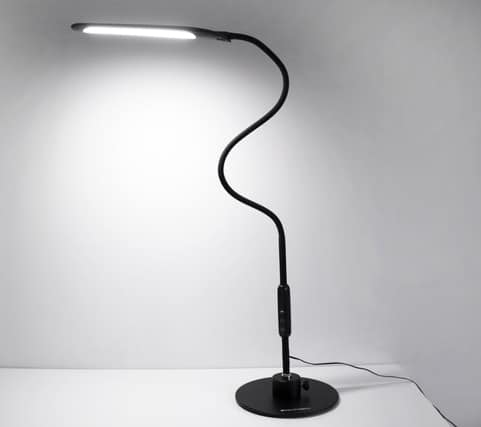 Eschenbach Optik of America introduces the new Magno Lumina Max Lamp which is an ideal light for those with vision loss from macular degeneration and other eye diseases.
The lamp is available in a desktop and floor version each of which provides superior illumination with energy-efficient LEDs and five brightness settings. The lamp also provides light in five different colour temperatures – from the warm and slightly golden 3000K to a cool 6500K, similar to the natural daylight. The brightness and colour temperature can be selected by using the touch pad buttons on the lamp control panel or from the wireless remote control which also features an extra-dim "night light" setting, an auto-off timer function, and quick reference brightness and colour settings.
The lamp's gooseneck-style arm is 25" long and rotates 270° and a cover over the LEDs which blocks 65% of distracting blue light. The sturdy metal base on the floor lamp has an anti-slip pad on the bottom to keep it from sliding and the desk version features a table clamp option that fits onto the side of a table or desk.
Click HERE for the full press release.