Transitions Optical Reveals the 2014 Canadian Retailer Winner: Opto-Réseau
Tuesday, January 27 2015 | 00 h 00 min | Awards
Transitions Optical, Inc. has named Opto-Réseau as the winner of the third annual Transitions Retailer of the Year Award.  The winner was announced today at the Transitions Academy in Orlando, Florida.
"I accept this award on behalf of all Opto-Réseau clinics. It is their passion to serve patients that made ​​this victory possible. I thank the entire headquarters team who are very dedicated to the success of the company and all its members," said Christine Breton, executive director at Opto-Réseau.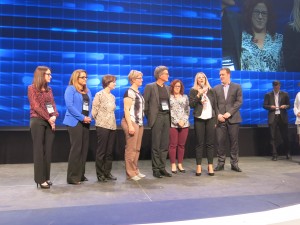 The other two finalists were Loblaw Optical (the 2013 winner) and New Look Eyewear (a two-time finalist).
The Transitions Retailer of the Year finalists were evaluated on their year-long commitment to photochromic growth, participation in programs and promotions, strategic marketing initiatives education, training efforts and community involvement.
The award is meant to distinguish retailer partners in Canada who demonstrate a commitment to enhancing the vision of their customers and communities.
For more information, visit: www.transitions.com