Transitions Optical Announces Grand Prize Winner of Its 2014 "Eyeglasses for Life" Promotion
Thursday, May 28 2015 | 00 h 00 min | Press Release
PINELLAS PARK, Fla.– Transitions Optical, Inc. has named Tony Brazill of Upper Island Cove, Newfoundland, the grand prize winner of its fifth annual "Eyeglasses for Life" promotion. During the year-long promotion, patients who registered their Transitions® lenses using the Transitions Certificate of Authenticity (COA) in 2014 earned the chance to win one of 60 instant prizes of $500 CAD VISA® gift cards, plus the chance to win Transitions lenses with anti-reflective (AR) coating for life. Brazill purchased his Transitions lenses from Wayne Finn Optical, located in Carbonear, Newfoundland. The practice hosted a celebratory event to honour Brazill and deliver his prize this month.
"Learning that I had won the grand prize was such a pleasant surprise," said Brazill. "I'm amazed by the technology in my Transitions lenses – not only does it provide convenience, but it also provides an exceptional level of comfort. I'm really excited to experience the other Transitions lens products available in the upcoming years."
Wayne Finn Optical has been promoting the Transitions COA program for eight years.
"We pride our practice on the quality of products we recommend, and promoting the Transitions COA program is a great way to reinforce that," said Wayne Finn, Wayne Finn Optical. "Not only does the COA confirm that our patients are receiving authentic Transitions lenses, it also provides an opportunity for our team to highlight the product benefits again at the time of pick-up."
2015 "Eyeglasses for Life" Promotion
Throughout 2015, every time patients register their Transitions lenses, they will be included in the grand prize drawing for eyeglasses with Transitions lenses and AR coating for life, and will also earn the chance to win one of 24 Instant Win Prizes of $25 CAD Visa® gift cards. For more information, visit RegisterMyLenses.ca.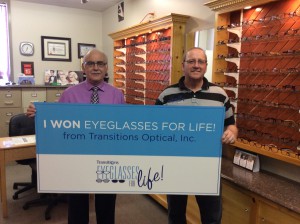 From Left to Right: Wayne Finn, Wayne Finn Optical; Tony Brazill, grand-prize winner