Canadian OD Chosen as President-Elect of the World Council of Optometry
Monday, August 31 2015 | 00 h 00 min | Appointments, News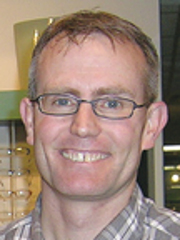 Dr. Scott Mundle, of the Henderson Vision Centre in Winnipeg, became president-elect of the World Council of Optometry. He will take office in 2017 after the term of the new president, Uduak Udom of Nigeria. The announcement was made at the World Congress of Optometry in Medellin, Colombia.
Dr. Mundle was president of the Manitoba Association of Optometrists from 1992 to 1993, and of the Canadian Association of Optometrists from 2002 to 2004. In an interview with Vuepoint, Dr. Mundle stated his wish as president to tackle two challenges in particular: to increase the number of optometry schools, and to improve legislation in the many countries where there is no legal recognition of the optometric profession.
The current president of the WCO is Dr. Susan Cooper, of Brampton, Ontario.