Transitions Research: Are You Underserving Multicultural Patients?
Friday, December 11 2015 | 00 h 00 min | News, Press Release
PINELLAS PARK, Fla. –  While the vast majority of Canadian eye care professionals (93%) say they serve culturally diverse patients, 40% admit that they do not take steps to educate themselves about culturally diverse patients – and even fewer take proactive steps to connect with these patients, according to a recent survey from Transitions Optical, Inc.[i]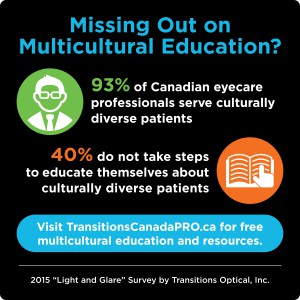 "Our consumer research shows that cultural sensitivity is highly valued among Canadians – and with Canadian Millennials such a diverse generation, we expect that this is a trend that will continue," said Isabelle Tremblay-Dawson, senior marketing manager, Canada, Transitions Optical. "This suggests that eye care professionals could strengthen their relationships with not just multicultural patients, but all patients, by placing more focus on a multicultural strategy."
For example, according to Tremblay-Dawson, more than three-fourths of Canadians surveyed agree that it is a sign of respect for another's culture when their eye care professional offers educational materials that are bilingual or in a language other than English or French.[ii] Yet, only 7% of Canadian ECPs surveyed report that they are supplying culturally diverse patients with bilingual/in-language resources.
The survey further revealed that only 34% of ECPs employ bilingual staff members, and even fewer employ diverse staff members (26%). Only 22% offer staff training, 15%  use diverse imagery when marketing and 9% participate in community events.
Transitions Optical offers a number of education resources to help ECPs prepare their practices to meet diverse patient needs through its Transitions Cultural Connections™ initiative. Several materials, including professional education and bilingual and in-language resources, are available free-of-charge at TransitionsCanadaPRO.ca.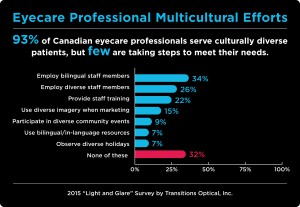 [i] Eyecare professional online survey was conducted by Breton Communications on behalf of Transitions Optical, Inc. among 218 professionals (22% optometrists; 63% opticians/dispensers; 15% other) between February 26 and March 13, 2015.
[ii] Online survey conducted by Wakefield Research on behalf of Transitions Optical, Inc., among 1,000 Canadian adults, ages 18-69. The survey included oversamples to statistically significant subgroups of Asian Canadians, African Canadians and Aboriginal Canadians and was fielded between February 20th and March 6th, 2015.