New Colour Availability for Dragon Transitions Snow Goggle Lens
Monday, February 1 2016 | 00 h 00 min | New Products
PINELLAS PARK, Fla. – Transitions Optical, Inc. and Dragon Alliance have expanded their partnership and launched three new colour options for the Dragon® X1 and X1s snow goggles, all featuring a Transitions® adaptive goggle lens. Highlighting industry leading photochromic technology from Transitions Optical, the goggle lenses automatically change tint in response to changing sunlight and weather conditions, eliminating the need to swap goggles while skiing or snowboarding.
Previously only available in yellow, the Dragon Transitions adaptive snow lenses are now available in light rose, amber and clear. With a broad visible light transmission range, all four colours automatically darken to a dark gray in bright sunlight and lighten to its original colour in cloudy or overcast weather. The lenses feature a special snow formulation that minimizes the temperature sensitivity found in other photochromic lens products, particularly in extreme temperatures.
The Dragon Transitions adaptive snow lens was designed to enhance visibility in all conditions, and provide clear, comfortable vision on the slopes with its colour-optimization to increase contrast and boost depth perception.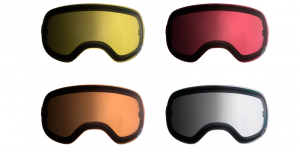 The Dragon® X1 and X1s goggles are now available to purchase through Gamma Power Sports.