Canadians Recognized at Transitions Academy
Monday, February 8 2016 | 00 h 00 min | News
Transitions welcomed hundreds of optical industry representatives at the 20th annual Transitions Academy, held in Orlando, Florida, February 3 to 6.
On the same occasion, Transitions introduced an important feature of its photochromic lenses: they provide partial blue light protection, both indoors and outdoors. The company is counting on this advantage to attract more consumers, namely teens and young adults.
With Transitions Academy also comes awards, and this year saw many Canadians receive recognition. In addition to being nominated in the "Training" category, Lunetterie New Look Eyewear won the "Best in Marketing" award, for which Opto-Réseau was also in the running. Rachel Hill, optician and owner of Personal Optical, was a finalist in the "Transitions Brand Ambassador" category, and InSightful Visions was competing for the "Growth Achievement" award.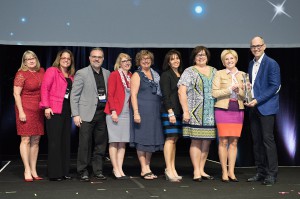 New Look Eyewear was awarded the 2015 Best in Marketing title during a recognition ceremony on Friday at the Transitions Academy event in Orlando.