Opto-Réseau Changes Granby's Landscape
Tuesday, May 31 2016 | 00 h 00 min | Press Release
Granby, QC – Dr. Alain Côté, Dr. Jean‑Yves Roy and Dr. Lisiane Tomassini, optometrists, were delighted to inaugurate their new Opto‑Réseau clinic in Granby, QC during a special event held May 25. The new concept for the 4,000-foot2 clinic offers over 1,500 frames in a minimalist decor.
The clinic's owners are fortunate to have a well-known team of optometrists from the community: Dr. Mélanie Beaudry, Dr. Gilbert Fortier and Dr. Marie-Michelle Clair. Dr. Fortier is also a columnist for Optik Magazine.
Clients will also benefit from the expertise of a team of three seasoned opticians and four assistants.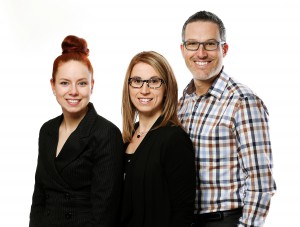 Dr. Marie-Michelle Clair, Dr. Mélanie Beaudry and Dr. Gilbert Fortier, Optometrists