Westgroupe and Eyewear Designs Ltd. Sign Distribution Agreement
Thursday, June 30 2016 | 00 h 00 min | Agreements, News, Press Release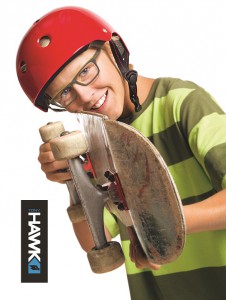 Montreal, QC– WestGroupe is pleased to announce an agreement with Eyewear Designs Ltd. to distribute the Tony Hawk Kids eyewear collection in Canada.
Tony Hawk is a skateboard legend and is widely considered to be one of the most successful and influential pioneers of modern skateboard culture.  Today the Tony Hawk brand includes a billion-dollar video game franchise, successful businesses such as Birdhouse Skateboards, Hawk Clothing, and the Tony Hawk Signature Series sporting goods and toys.  Originally launched in 2015 as an adult collection, Tony Hawk Eyewear has garnered rave reviews for its innovative styling, bold use of color and attention to detail.  Building on this success, Eyewear Designs Ltd. has developed the new Tony Hawk Kids Eyewear Collection to appeal to a new generation of Hawk fans.
The Tony Hawk Kids Collection will be launching with six styles (three acetate models and three stainless steel models) that feature trendy styling and fun color combinations.  Designed with active young boys in mind, each model features spring hinges for added durability and are tough enough to stand up to an active lifestyle.
To read the full press release, click HERE.