Jean Vuarnet: a Visionary Champion Passes Away
Wednesday, January 4 2017 | 00 h 00 min | News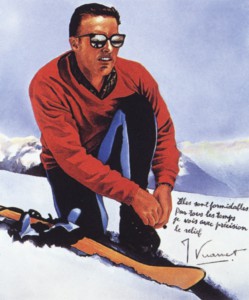 It is with great sadness and regret that the VUARNET team has learned of the passing away of Jean Vuarnet at the age of 83. Jean gave his name to the brand 60 years ago and in his honor we wish to review the historic milestones of this visionary champion.
An outstanding athlete, Vuarnet won the downhill gold medal in the 1960 Winter Olympics at Squaw Valley in California and was a seven-time French ski champion. He was a pioneer in his sport discipline, always looking for ways to improve his performance. He was the first to develop the "egg" position that racers have been using ever since and to incorporate metal components in skies, which have now become the norm.
It was a meeting with a French optician in 1959 that marked the start of the business adventure that lead to the creation of the legendary brand VUARNET. During this meeting, the optician Roger Pouilloux offered the French ski champion the 02 sunglass model as a token of his admiration. These sunglasses, equipped with the luminous Skilynx mineral glass lenses, enabled Jean Vuarnet to further improve his performance. The Skilynx lenses would highlight contrast and enhance depth perception in downhill skiing along the slopes of Squaw Valley, several months later, during the 1960 Winter Olympics. Following this victory the two men, who shared a common passion for performance, forged a friendship and decided to join forces in creating a brand that embodied their vision: constant innovation, high performance and French elegance. The brand VUARNET was born.
A visionary, Jean Vuarnet was also instrumental in the development of the Avoriaz ski resort in 1960 and the "Porte du Soleil" ski area that joined 12 ski resorts between France and Switzerland in 1964. He then became the technical director of the Italian ski team from 1968 to 1972, and vice-president of the French ski federation from 1972 to 1974. A brilliant businessman, he launched VUARNET and always promoted its international reputation as a brand that has become the absolute benchmark in sunglasses thanks to the unsurpassed quality of its glass lenses.