New Look Eyewear Wins Best in Training Award at Transitions Academy
Thursday, February 9 2017 | 00 h 00 min | Awards, News, Press Release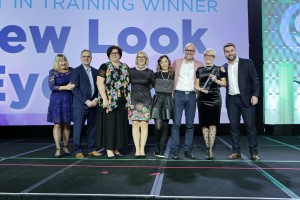 ORLANDO, Fla. – Transitions Optical honored New Look Eyewear with the 2016 Best in Training title, a category of the Transitions Innovation Awards program, during a recognition ceremony on Tuesday at Transitions Academy in Orlando, Fla.
Marie-Josee Mercier, Vice President Sales and Operations at New Look Eyewear, accepted the award on behalf of the retailer at Transitions Academy.
"Adopting a new method of product training very much allowed for better retention of information for our employees," said Mercier. "Learning about Transitions products in a fun way helped us maintain a high-level of employee participation and excitement. We are very happy to accept this award."
To read the full press release, click here.