Sheena Taff Wins 2016 Transitions Brand Ambassador Award
Thursday, February 9 2017 | 00 h 00 min | Awards, News, Press Release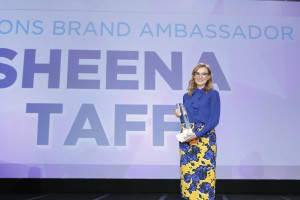 ORLANDO, Fla. – Transitions Optical honored Sheena Taff, Roberts & Brown Opticians, Vancouver, British Columbia, with the 2016 Transitions Brand Ambassador title, a category of the Transitions Innovation Awards program, during a recognition ceremony at Transitions Academy in Orlando, Fla.
"I began my role as a Transitions Change Agent knowing that I could make a difference in what people think about the average Transitions wearer," said Taff. "Being able to wear Transitions myself and showcase them in a stylish, fashion forward way, makes it easy to spread the word about one of my favorite products. I am incredibly excited to be receiving this award."
Click here to read the full press release.