L186S, the First Lacoste Sunglasses Made for Tennis
Tuesday, May 30 2017 | 00 h 00 min | New Products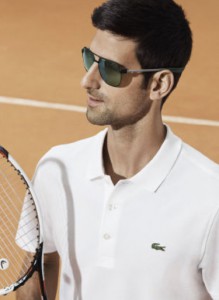 Worn by Novak Djokovic, the new Lacoste brand ambassador, the René Magnetic Sunglasses combine contemporary sport design with technology.
The René Magnetic Sunglasses:
The perfect match between the heritage of the brand, the sport inspired look and the contemporary design. L186S features the exclusive Lacoste Magnetic Frame Technology combined with a sporty yet vintage and retro-chic look. The metal pilot shape comes with high quality ZEISS lenses specific for the different tennis courts and the René Lacoste signature engraved on the right lens.
Distributed in Canada by Marchon: www.marchon.com