Rossella Leanza Wins First Edition of Coco Song Award
Monday, October 16 2017 | 00 h 00 min | Awards, News, Press Release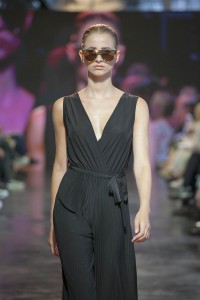 The "Liè féng in colours" project by Rosella Leanza has won the first edition of the Coco Song Award, the contest organised by Area98 in collaboration with Harim Accademia Euromediterranea to offer young talents in the world of design the opportunity to present their own take on the celebrated Coco Song collection.
For her project, Leanza – who is in the third year of a four-year Fashion Design degree – drew inspiration from the art of ceramics, which reached stunning level of sophistication during the Song dynasty, becoming one of the most emblematic facets of Chinese culture from the period. By focusing on the concept of form, which plays an important role in Song ceramics, Leanza devised and produced a pair of glasses that – thanks to the unique finish on the acetate – recreate the fissures that appear when the ceramics are fired. Presented in bold colours, the texture is offset by the two-tone sunglasses lenses, making for a high-impact pair of frames that – despite being highly original – stay true to the Coco Song philosophy and strengths.
The official unveiling of the winner of the Coco Song Award took place at Silmo following a selection processes whereby prototypes made by the five final finalists were evaluated on the basis of their degree of uniqueness, wearability and marketability, as well as for their alignment with the brand's target market and the overall quality of the frames, from design to production.
Click HERE for the full press release.