SAFILO Opens a New Showroom in Sao Paulo
Tuesday, February 6 2018 | 00 h 00 min | News, Press Release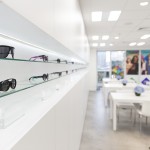 SAFILO announces the opening of its new showroom in São Paulo. This showroom opening is part of Safilo Brazil's office relocation in order to showcase in a modern and Italian designed space, Safilo's prestigious portfolio of more than thirty brands to its customers and local partners.
The São Paulo showroom – one of the more than twenty showrooms worldwide that follows the most recent openings in Stockholm, London, Zurich, Hong Kong, Dubai and Mexico City – demonstrates the Group's focus and commitment to Latin America and its investment in further developing its long-standing customer partnerships in the region.
Moreover, it represents a further step in the Group's 2020 Strategic Plan to both support Latin America's development while broadening geographical coverage through consistent, highest-quality capabilities to approach local markets successfully.
Click HERE to read the full press release.