Essilor Canada at Salon des Opportunités
Thursday, April 5 2018 | 00 h 00 min | News, Press Release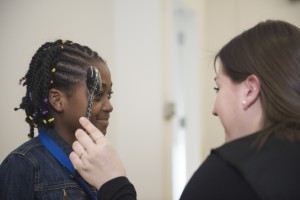 Essilor Canada recently sponsored the Salon des opportunités – a job fair geared toward newcomers to Montreal's metropolitan region – at UQAM's Sherbrooke Pavilion on March 17. The event sought to facilitate the integration of the region's new migrants and immigrants in the community, as statistics show that these groups have a harder time in the job search process, which can affect their integration experience.
In addition to its sponsorship, Essilor Canada also wanted to actively participate in the event. Remaining true to its mission of "improving lives by improving sight", the company set up a visual health information booth and facilitated visual screenings, conducted by volunteer optometrists and student optometrists, in partnership with the Essilor Vision Foundation, the Eye Disease Foundation, the University of Montreal's School of Optometry and Axis Medical Canada. Recognizing the difficulties faced by newcomers in finding employment and the role of healthy vision in learning and development, these screenings will help participants kick off the job search process on a positive note.
In addition, with diversity as one of Essilor Canada's values, the company had a booth to showcase employment opportunities for newcomers and to meet candidates interested in working with them.
A total of 99 visual screenings took place, and 59 participants were referred to the University of Montreal's School of Optometry for a full eye examination. Those who will need a visual correction will receive a free pair of eyeglasses with a frame from Perfect Optical and lenses from Essilor Canada. Three participants required an emergency consultation at the hospital with an ophthalmologist, and one participant needed an urgent consultation with an optometrist. The rate of referrals (63%) is much higher than what we usually observe (around 35%), demonstrating the significant visual needs of the Haitian community.
The recruitment team also met 250 people, 16 of whom chose to apply with their resume.
Source: Essilor Canada