Haiti's First School of Optometry Opens
Thursday, April 19 2018 | 00 h 00 min | News, Press Release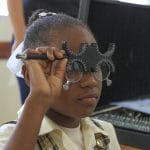 April 12, 2018 marks the opening of Haiti's first ever School of Optometry & Vision Sciences at I'Université d'État d'Haïti.
Over the last five years, the global optometric community has come together to empower the people of Haiti. Optometry Giving Sight (OGS) and its partners believe the future will be better when local people are equipped, helping each other for generations to come.
The current number of optometrists in Haiti leaves well over 10 million people without any vision care. The school's 5-year doctorate will graduate 16 fully qualified optometrists per annum. "The new graduates will have a significant impact for the eye care landscape in Haiti," explains Dr. Juan Carlos Aragon, Chair of Optometry Giving Sight, each being able to see 3,000 patients per year on average.
Not only has the global optometric community come together to provide immediate help via vision care outreach clinics, but the mandate of Optometry Giving Sight has been established. The people of Haiti are now being trained to help their communities, their country, and their fellow Haitians see a better future, quite literally.
It's this sustainable attitude from the global optometric community that has brought them together with Optometry Giving Sight – a mission to establish optometry in Haiti and around the world. Together, with OGS donors, the I'Université d'État d'Haïti, Brien Holden Vision Institute, VOSH International, Charity Vision, Vision Source USA, Essilor Canada, the University of Montreal, the Digicel Foundation, the World Council of Optometry and many other integral supporters, there is sight for the people of Haiti.
Video links about the project:
Click HERE for the full press release.