Announcing New Transitions® Signature® Style Colors and New Transitions® XTRActive® Style Mirrors
Monday, June 25 2018 | 14 h 32 min | New Products, News, Press Release
Transitions Optical and Essilor Canada have announced Transitions® Signature® lenses in four new style colours, and new Transitions® XTRActive® style mirrors in five colours to offer patients more opportunities to express their personal style while enjoying the benefits of the flagship photochromic brand. The new lens offerings will be available to order from Essilor Canada this summer.
New Transitions Signature Lens Style Colors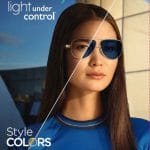 Consumers are increasingly trending toward bold, personalized fashion choices, and the new Transitions Signature lens style colors reflect this trend. Along with the existing Transitions Signature lens iconic colours of grey, brown and graphite green, the new colours offer a palette with a choice for virtually every consumer. The new colours are:
Sapphire – a bright, exciting hue that brings a cool factor
Amethyst – a sophisticated shade with a contemporary twist
Amber – for a vintage look that is both timeless and of-the-moment
Emerald – trendy and versatile, matching a variety of styles
The new style colors are an extension of the Transitions Signature lens portfolio and offer the same world-class features and benefits of Chromea7™ technology. The seven total Transitions Signature lens colours will allow wearers to create their own unique look, and empower eye care professionals to recommend Transitions Signature lenses to a broader patient base.
New Transitions XTRActive Style Mirrors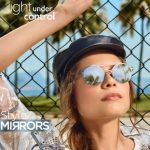 Mirrored glasses continue to be in style, and the new Transitions XTRActive style mirrors create an on-trend mirror finish with a hint of colour.  The new mirror colours are:
Gold – all skin tones
Silver
Copper
Violet Blue
Blue Green
Outdoors these lenses have a mirror finish and provide intelligent visual comfort and hassle-free protection from UV and Harmful Blue Light, thanks to the advanced Transitions XTRActive technology. Indoors the mirror fades to a light reflection with a hint of colour. Transitions XTRActive style mirrors are a compelling second pair offering for clear and existing Transitions lens wearers.
Availability
The Transitions Signature style colors will be available in a variety of materials, including 1.50, polycarbonate and 1.67 in single vision and progressive designs. The Transitions XTRActive style mirrors will be available in polycarbonate in single vision and progressive designs.
Click HERE for the full press release.