EBlock Debuts New Service Kit
Wednesday, July 25 2018 | 15 h 00 min | New Products, News, Press Release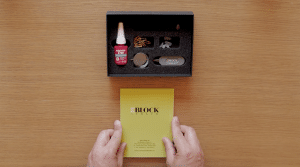 EBlock's new service kit for is designed to support the technical assembly and after-sales for all their collections.
The new kit is designed to be easier and more intuitive for mounting lenses without using screws.
Contained within the kit is a card instruction system, an E-KEY for the introduction and the disengagement of the spaces and the new gold-coloured spacers for the sealing of the block system. The kit also comes with an E-TESTER to check for error as well as nylon rings, nose pads and temple tips. The service kit is free to opticians and accredited laboratories.