An Interview with Hoya Vision Care Canada's President Ahmos Henry
Thursday, November 8 2018 | 07 h 33 min | Optik Magazine
By Mark B. Matthews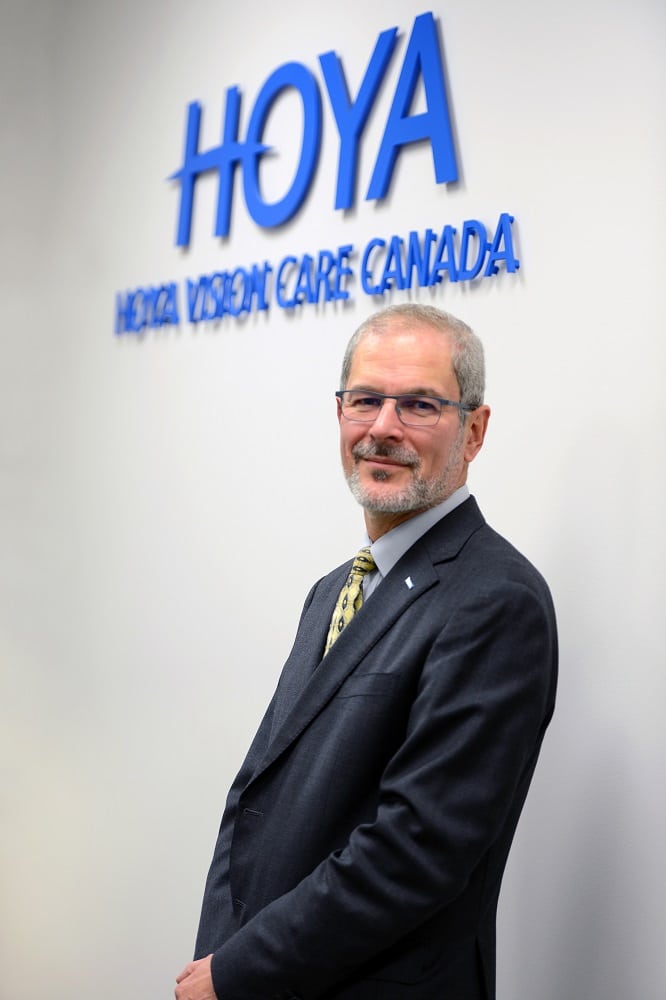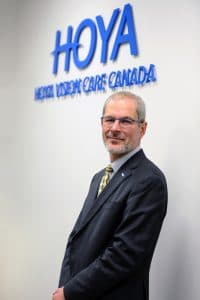 Optik had the opportunity to sit down and speak with Ahmos Henry, President of Hoya Vision Care Canada.
HOYA Vision Care Canada is a subsidiary of Tokyo-based Hoya Corporation and provides precision prescription laboratory services and high-quality ophthalmic lenses to Eye Care Professionals across the country. Hoya provides a full range of proprietary lens materials, advanced designs for virtually every sight correction requirement and excellent scratch and anti-reflection coatings using Hoya's world-renowned Substrate Matching Properties processes. 
 Ahmos, how did you get into the eye care business? What brought you into the World of Eye Care?
My career in the eye care industry started by sheer coincidence! After many years in the pharmaceutical field, I happened by chance to meet a friend at an eyewear trade show (MIDO Eyewear Expo) that his company was participating in. I was completely fascinated by the unique combination of science and fashion. Innovation and fun radiated throughout the entire show and I immediately knew that I wanted to work in the vision care field. When the opportunity came, I pursued it passionately until I got in. It has been over 15 years and I have never regretted my decision, nor do I want to join any other industry! I love what I do, enjoy working with my team, and embrace the many relationships formed with Eye Care Professionals (ECPs) over the years.
 What have you learned from your experience in the optical industry that will serve you and Hoya best in the future?
I'm constantly learning – one thing that stands out is that the aspect of eye care is exceptionally important as it can impact a patient at any stage in their life. The reality is that it can have a negative impact if the job is not done well or right. I was saddened to hear about two university studies done in the US where they concluded that close to half of the glasses dispensed online were erroneous. That's why it's really important that we communicate the huge value patients will get when they have their glasses dispensed properly by a certified professional.
What is your opinion about the direction of the market, particularly for independent ECPs? How do you see the role of Independents changing in the next three to five years? What challenges will they face?
The market is changing rather quickly, primarily because of the numerous consolidations happening right before our eyes. Interestingly; the line between suppliers and retailers have been crossed, and a supplier can -and will- be a competitor to independent eye care professionals, so I see differentiation to be more important for independent Eye Care Professionals as they fight for better vision through a more ethical and professional patient eye care environment including product dispensing and patient education. I see the gap between large retailers' "mass service" model, and online dispensing of vision care products, pushing professionals to differentiate. I praise the Optometrists and Opticians' colleges in the province of Ontario as they stand and fight for proper dispensing and patients' best interests.  An example of this is when they took legal action against online vision care product providers and were rewarded by winning their law suit.
 What benefits and services does Hoya offer independent ECPs to help them grow their business in these challenging times?
Hoya offers an exciting array of benefits and services to independents.  This includes the launch of some exciting "first to market", innovative products and services this year and we aren't done yet!  We're also currently preparing to launch more over the next few months. Some of these include, a national offer for independent ECPs who are looking to differentiate themselves in the market. These products include the Sensity Dark / Sensity Shine photochromic lenses, the revolutionary redesign of our most popular LifeStyle progressive lens and the world class performance of Hoya's industry leading anti-reflective coatings that have earned respect and admiration for their quality and endurance.
Aside from Hoya's advanced technology, how do you help independent practitioners compete? Are there value-add services that Hoya's customers have come to expect?
Numerous value-add programs are available to our ECP's however the most important one is that we share the same values and we truly believe that this is the foundation to building a strong and lasting partnership. We believe in empowering our independent partners not only with our technology but also with marketing support and a sales approach that focuses on enabling ECP's to win in a competitive market.
All the major competitors claim that their lens designs are the best! What makes Hoya's lenses stand apart?  
While this is 'true,' Hoya is fortunate to benefit from a mother company that offers a diversified backing of strong medical equipment companies like PENTAX medical and Hoya Surgical Optics that produce best in class medical equipment and Intra-Ocular lenses (In addition to the contact lenses arm, and the IT division that caters to the computer industry). I dare say that no other company has this diverse, IT and Health care focus that supports our sophisticated lens manufacturing, technology and design capabilities.
What advice would you give to young eye care professionals coming into the market, particularly those that aspire to own their own practice?
I see differentiation to be more important for independent ECPs as they establish their brand in the market place. The optical industry is a great industry – what ECP's contribute to the patients' every day is indescribable! Another asset for young ECP's is marketing their practice to their targeted audience.  At Hoya, our team is always happy to help and support ECP's with this.
 What gives you reason to look forward to your work day at Hoya?
Believe it or not, I love my Mondays! Every day I go to work is a perfect day! I am alive, well, happy and healthy. Furthermore, I go to work knowing that Hoya helps thousands of people see better and live better. Because of what we do, thousands of people EVERYDAY avoid an accident, excel at school, enjoy their lives and loved ones, do better at work, and the list goes on!
In 2016 Hoya made some global acquisitions including 3M Safety and VisionEase (and even SEIKO) before that. How have these acquisitions fit into the Hoya Canada business plan?
It all boils down to how we can empower Canadian ECP's to be more competitive with new tools and how we can give more options to patients. Being the leader in safety eyewear compliments the Hoya unique business proposition to ECP's. We are committed to the Independent ECP's and will do everything we can to promote their success and give them what they need to compete and win!
Operating a high-volume lab is demanding? What makes Hoya labs different/better – why should customers make Hoya their primary lab?
Managing several teams and operating sophisticated equipment is complicated, considerably more than what some may think. The key for Hoya is not just the technology but how we work and succeed as a team together. Our 7 Core Leadership Values of Hoya Canada is a major component and a testament of how our team of lab technicians ensures every job is completed to a higher standard that our business partners and their patients have come to expect!