Blackfin – Natural Awareness
Friday, February 22 2019 | 10 h 13 min | News, Press Release
Year Three of Phase Three has been accomplished: the product, the genuine story and a brand image which has reached a stylistic and conceptual maturity in the design of its eyewear, the new exhibition space and the latest 2019 Blackfin communications campaign.
Natural Awareness is not a means to an end, a message coined for the latest seasonal campaign, but the next step in Blackfin's growth. It is the realisation that the only thing we need to face the future with positivity is to be ourselves.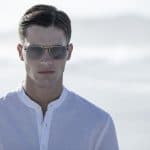 The sequence of shots showcases the new collection of spectacle frames and sunglasses, marrying sophisticated colours with the exquisite but almost imperceptible purity of the Black Edition collection. In the campaign images, captured by the lens of photographer Giovanni De Sandre, the beauty and elegance of the Blackfin products merge with the concept of minimal yet utter technical precision and titanium, the material par excellence, embodies their hi-tech and glamorous appeal.
The backdrop, with its gentle, yet fragile and powerful nature, gives us an awareness that helps us realise who we really are. Naturally.
Click HERE for the full press release.