Transitions and the OAC Announce 2019 Students of Vision Scholarship Winners
Wednesday, December 18 2019 | 12 h 13 min | Awards, News, Press Release
Transitions Optical and the Opticians Association of Canada (OAC) announce the winners of the 2019 Students of Vision Scholarship program: Naomi Kwong, Patricia Sanvictores and Mona Samani.

Naomi Kwong, a student optometrist at the University of Waterloo, will be awarded the grand prize scholarship of $2,500.
Patricia Sanvictores, a student optician at Douglas College, will be awarded a scholarship of $1,500.
Mona Samani, a student optician studying at Georgian College, will be awarded a scholarship of $500.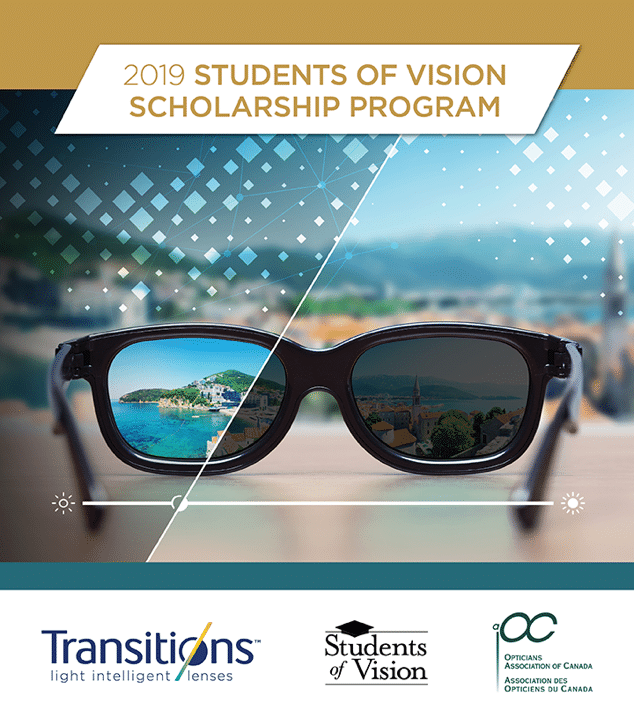 Entrants were tasked with describing their plan to recommend lens technology to patients/consumers by crafting a video, presentation or essay entry. Submissions were reviewed by a panel of judges and evaluated based on their demonstration of creativity, strategic thinking and ethics.
Kwong detailed her multi-faceted approach to recommending lens technology in a video submission, backed with various sources of relevant research and statistics. Sanvictores also created a video which explained the multiple tools, resources and types of patient lifestyles to consider when recommending lens technology. Samani submitted an essay which explained the various solutions lens technology could provide for patients and consumers.
Click HERE for the full press release.