July 2020 StatsCan Report Shows Slowing Bounce-Back
Monday, October 19 2020 | 15 h 05 min | News
While June 2020 retail sales (unadjusted) showed considerable upside compared to the previous month, the rate of the bounce-back has slowed considerably with the release of JULY 2020 Retail sales by StatsCan.
From the APRIL low of $43.6 M, May retail sales increased 35.8% and June increased 19.0% over May. July numbers however are a stark reminder that full recovery of economic activity may not yet be in the cards. July retail sales reached $57.2 M a mere 1.7% increase.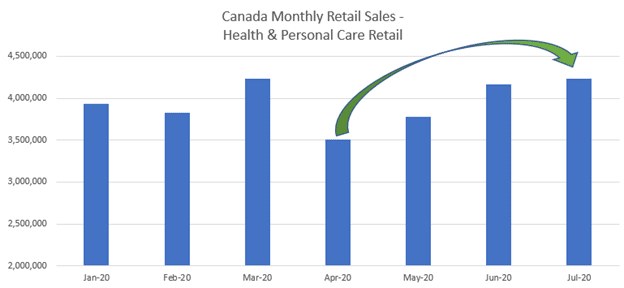 Looking for good news, the July 2020 result did post 4.5% higher than July 2019.
Taking a sector-specific view July 2020 Canadian Health and Personal Care(H&PC) retail sales show a similar trend to that of all retail sales.
June H&PC sales showed a strong bounce back of 10% from May, but the July sales rebound, while still positive, was only up 1.5% compared to the prior month.
H&PC retail category is a broad swath of personal care retail operations that includes pharmacies and optical stores but excludes mass merchandisers and private optometry clinics. As such, the H&PC retail category might not be an exact benchmark for individual practices.
Not all regions across the country shared equally in the relatively positive numbers.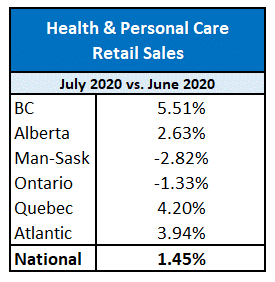 British Columbia and Quebec lead the way with +5.5% and +4.2% month over month sales growth respectively while Ontario and Man-Sask showed declines of 1.3% and 2.6% respectively in July.