Bank of Canada Donates 650 Smartphones to Canadians with Sight Loss
Friday, January 29 2021 | 11 h 51 min | News, Press Release
The Bank of Canada is donating 650 of its gently used smartphones to Canadians with sight loss through CNIB's Phone It Forward program.
Phone it Forward refurbishes modern, gently used smartphones, loads them with accessible apps, and puts them directly into the hands of Canadians who are blind or partially sighted. The program also provides recipients with technology training.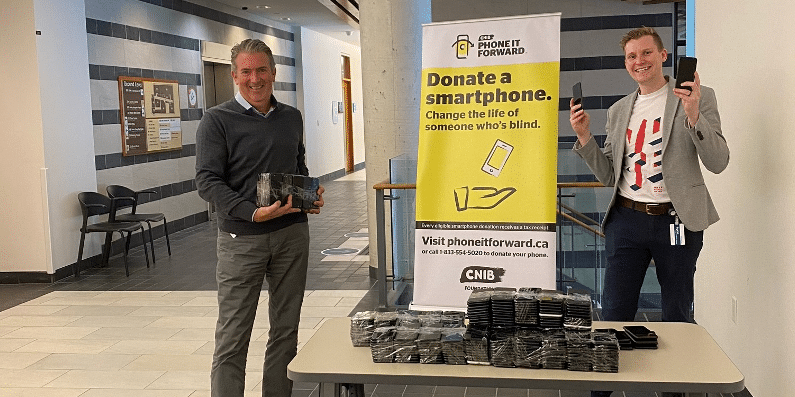 "This is so much more than a green initiative aimed at reusing smartphones, it's about putting accessible technology and a powerful tool in the hands of Canadians with sight loss," said Maureen Carroll, Bank of Canada's Managing Director, Currency.
Sixty-one per cent of Canadians with sight loss use a smartphone in their daily activities, according to CNIB's 2020 Technology Use Survey.
Phone It Forward recipients learn about accessible apps that can enhance independence, such as travelling with GPS, taking the proper dosage of medication, identifying colours and faces, reading printed text, accessing live video assistance from a sighted volunteer, and dozens of other day-to-day tasks that may have seemed challenging before.
"The Bank of Canada's generosity will go a long way towards revolutionizing daily life for hundreds of individuals who are blind. For many of the recipients, a smartphone would have been out of reach," said John M. Rafferty, CNIB's President and CEO. "CNIB challenges other Canadian businesses and corporations to follow the Bank of Canada's footsteps and donate their gently used smartphones to change the lives of Canadians with sight loss."
To donate your smartphone, make a financial donation or learn more, visit phoneitforward.ca.
Click HERE for the full press release.