Transitions Extends Successful Certificate of Authenticity Contest in Canada
Wednesday, February 24 2021 | 11 h 09 min | News, Press Release
Transitions Optical announced it will extend its successful pilot contest to drive awareness about the importance of making sure patients receive authentic Transitions® lenses when purchasing Transitions photochromic lenses. The contest rewards eye care professionals (ECPs) and patients for registering their lenses using the Transitions lens Certificate of Authenticity (COA) after receiving their lenses. The contest will run from February 1st through December 2021.
"We launched this contest last year and were blown away by the results – recording a 60% increase in registrations of the COA," said Arnaud Rajchenbach, marketing manager, Transitions Optical in Canada. "The winners were thrilled to receive amazing prizes and more importantly, we drove awareness about the value of receiving authentic Transitions brand lenses."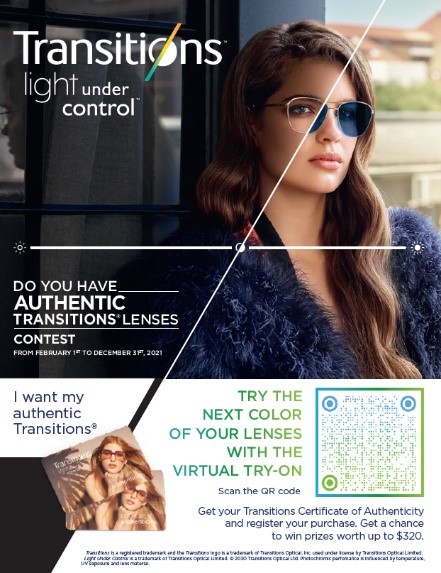 This year's contest will include additional assets for ECPs to leverage in their practice – including a contest guide, poster, counter card and social media assets. These assets will include a QR code that will drive the consumer directly to the COA registration page, giving them faster access to the page. To register, the patient will need the ECP's location ID number to write on the back of the COA that ECPs give to patients when dispensing their lenses. The patient should register their lenses on the Transitions Certificate of Authenticity page, including their ECP's location ID. Once registered, patients are eligible to receive one (1) monthly prize, including Bose® headphones, Airpods, Bose frames, Sonos one wireless speaker or a JBL Flip 5 speaker. Eye care professionals are eligible to win Transitions lens branded gift packs.
Click HERE for the full press release.