Safilo Debuts New Look for Vision Expo East 2022
Wednesday, March 30 2022 | 20 h 22 min | Events, News, Press Release
Safilo announces its return to the main show floor of Vision Expo East (VEE). There, Safilo will be present with a corporate booth from Friday, April 1st – Sunday, April 3rd.
The booth, boasting 8,000 square feet – in addition to an adjacent 400 square foot dedicated to a kate spade new york pop-up boutique – will welcome show attendees and customers into its sales environment. There, the company's Spring/Summer 2022 eyewear offerings will be presented with a special emphasis on the Carrera brand, newest launch collection Carolina Herrera, new Under Armour collection and men's fashion brand BOSS.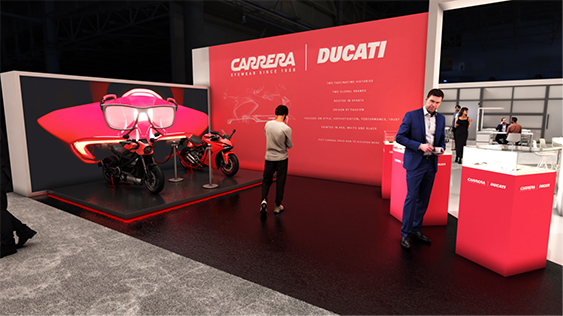 Additionally, each of these above-mentioned brands will be front and center with attention-grabbing experiential activations. In particular, Carrera will feature a branded selfie station, complete with two Ducati motorcycles as part of the recently announced partnership and product collaboration while Under Armour will offer a mini-golf activation where show guests can win prizes for hole-in-ones.
Outside of the Safilo booth, Robin Brush, ABOC, Safilo USA's Training and Education Manager, will present three continuing education courses to show attendees to help them achieve better results for their practices. These include: J.O.B.S. (Joint Opportunity to Believe in Staying) Program on April 1 from 11:00am-12:00pm, Return Rate Rescue on April 1 from 5:00-6:00pm and It's Not About You – What About the Patient? on April 2 from 8:30am – 9:30am.
Click HERE for the full press release.