AYA Eyewear Launches Two Highly Anticipated New Styles
Friday, October 7 2022 | 11 h 18 min | New Products, Press Release
AYA Eyewear announces the launch of two highly anticipated styles: Jax and Paxton. This woman-led eyewear brand continues to push boundaries with creative eyewear design, and this series is the first of its kind integrating multiple technologies. Inspired by Ts'msyen artist, Phil Gray's iconic sculptural pieces, the new eyewear is truly wearable art.
AYA Eyewear, a conscious brand that has long supported First Nations artists and their communities, is releasing new styles Jax and Paxton featuring artwork by Ts'mysen artist Phil Gray.
These styles integrate metal inlay, CNC and digital print technology to produce striking pieces of art. The challenges of supply chain delays and COVID have not held AYA Optical back from creating their most innovative and complex production to date.
After many months of prototyping and overcoming issues related to supply chain delays, COVID and even climate related challenges, Jax and Paxton are now launched online.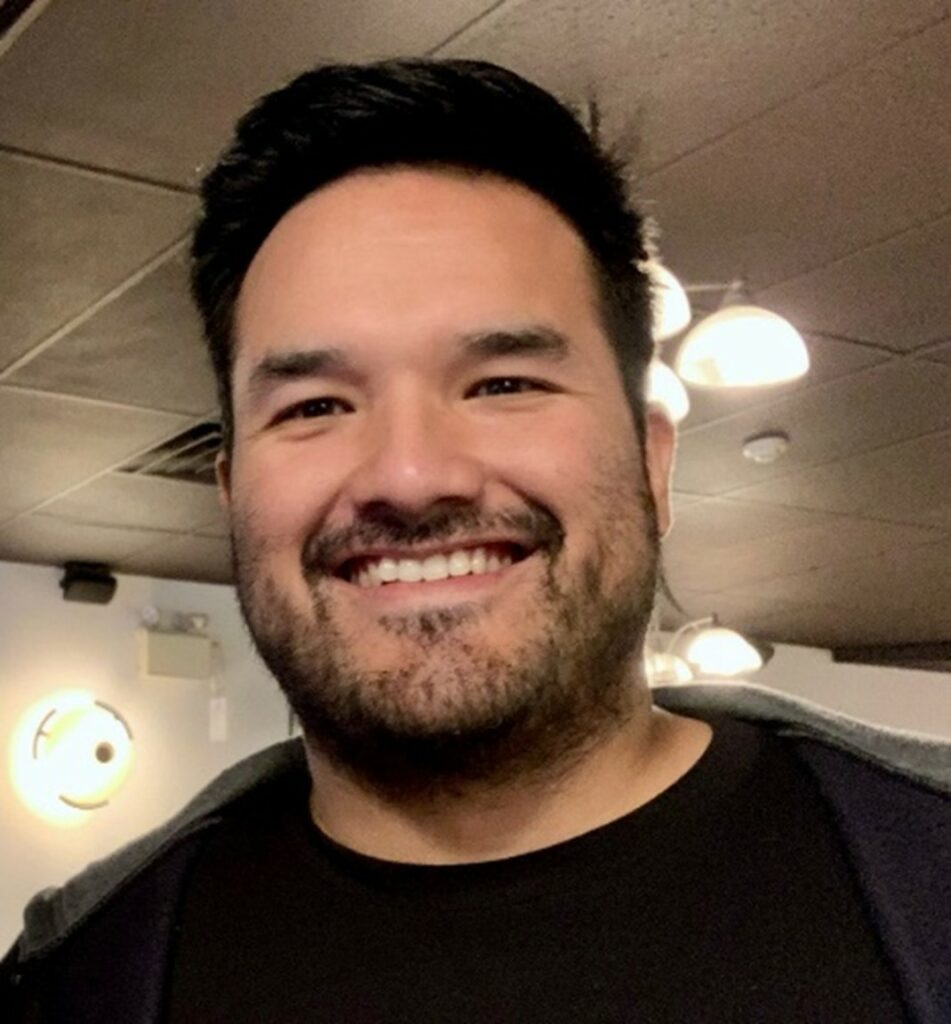 Phil Gray is an artist from the Ts'msyen and Cree Nations. Born and raised in Vancouver, Phil was able to interact with and learn from many accomplished artists throughout his formative years. Phil's work focuses on the traditional Ts'msyen style of carving and formline design, a hereditary right passed down through his mother. His lifelong goals have been to help raise the profile of Ts'msyen art, and to create art for traditional use to enrich connections with his people and heritage. Phil enjoys displaying his artwork via non-traditional items and locations as a creative way to share Ts'msyen art with a broader audience. His work can be found in private collections around the world, in various galleries and museums across North America, on organizational logos and on people's bodies in the form of tattoos. In 2014, Gray was awarded a British Columbia Creative Achievement Award in Aboriginal Art from the Government of British Columbia.
AYA Optical creator Carla D'Angelo says: "My challenge is to work closely with the artist to help bring their vision and stories to life. It isn't always easy, but the greatest satisfaction comes for me when I can see that they are thrilled with the final product of our collaboration. Jax and Paxton have really pushed the idea of art integration into eyewear beyond anything I have seen to date."
When researching Phil's work, D'Angelo was particularly struck by a custom piece he did with TELUS Gardens in conjunction with Douglas Reynolds Gallery in Vancouver. The beauty and fluidness of the design really resonated with her and Phil and D'Angelo discussed how they could bring that look into their eyewear collaboration, combining metal inlay, print and CNC technology.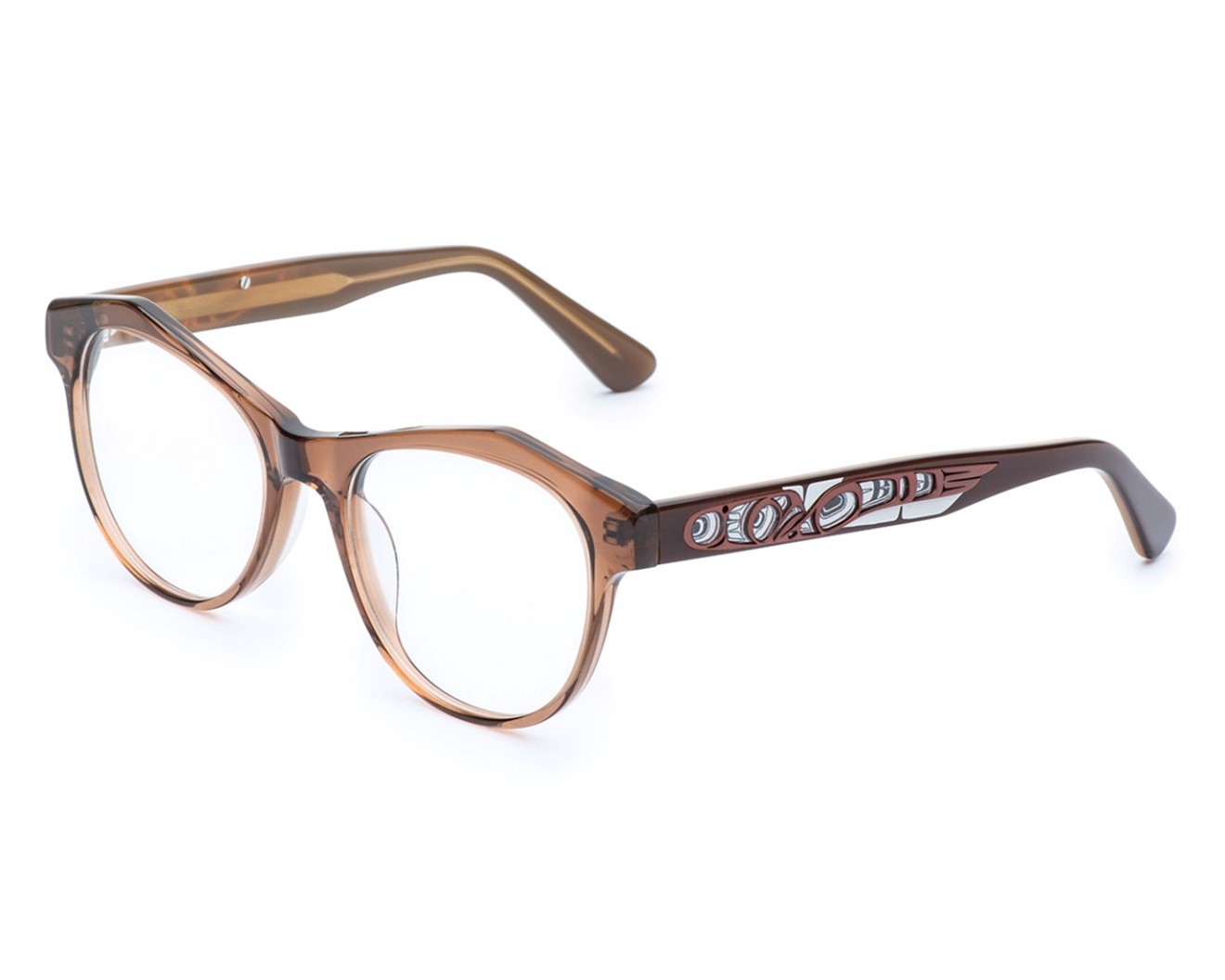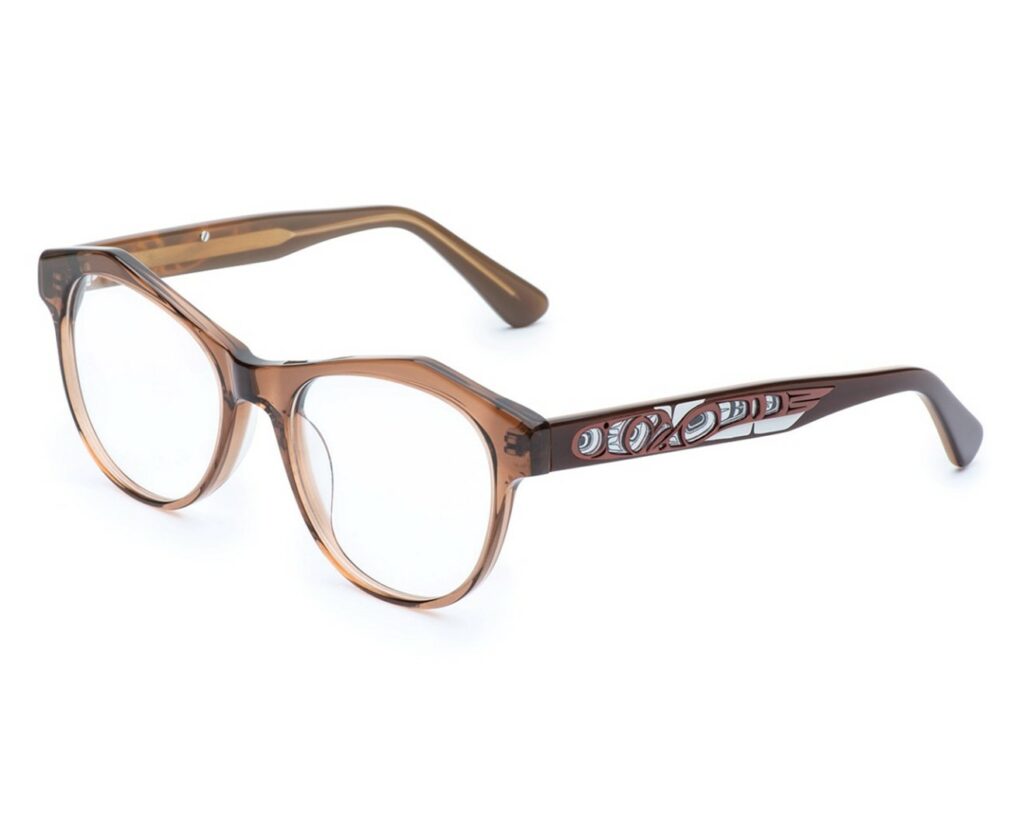 Jax optical frame is an oversized glamorous silhouette that combines contemporary angles with soft crystal colours for a very feminine and flattering look. Striking eagle artwork by Phil Gray makes a bold and tasteful statement.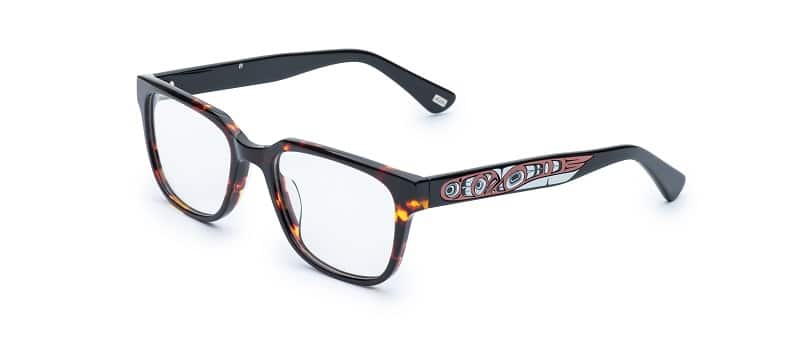 This bold and assertive frame brings a new attitude to the classic silhouette. Warm Havana brown or classic gray. These frames are handmade and really the first of their kind. Spring hinges allow a little extra room to make for the perfect fit.
These newest styles can be found at www.claudiaalan.com or Hollyburn Eye Clinic and other opticians across North America.
Eagle Design by Phil Gray
The Eagle is a symbol of freedom and strength combined with grace. The Eagle down is used in ceremonies, honoring and respecting guests.