New Studies Show Superior Distance Vision & Image Quality Performance of CooperVision MiSight® 1 day for Myopia Control
Wednesday, June 14 2023 | 09 h 34 min | News, Press Release
Two recently presented studies provide additional evidence to support why more than 175,000 age-appropriate children worldwide are successfully wearing CooperVision MiSight® 1 day soft contact lenses for myopia control. New research focused on distance vision and image quality complements the international, multi-site, seven-year clinical trial that demonstrated sustained slowing of eye growth and evidence indicates that there is no rebound effect for the innovative intervention.
"With myopia management now the standard of care in Canada, it's critical that children have an outstanding first experience when receiving treatment. CooperVision has proven MiSight® 1 day's effectiveness of slowing the progression of myopia through unequaled long-term research. Now we are giving eye care professionals even more prescribing confidence by reinforcing its visual performance," said Elizabeth Lumb, BSc (Hons) MCOptom, FBCLA, Director of Global Professional Affairs, Myopia Management, CooperVision.
Short Term Visual Performance of Two Myopia Control Soft Contact Lenses (Guthrie S., et al.) enrolled 26 neophyte children ages 8-15 in a double masked, single visit, non-dispensing trial where MiSight® 1 day and ACUVUE® Abiliti™ 1-Day lenses were fit and worn contralaterally for one hour in randomized eyes. Children in MiSight® 1 day rated their subjective vision distance as significantly higher and showed significantly better distance visual acuity. Among children who expressed a lens preference based on vision, more than 90% chose MiSight® 1 day. Managed by the Centre for Ocular Research & Education (CORE), the study was presented at the 2023 BCLA Clinical Conference & Exhibition.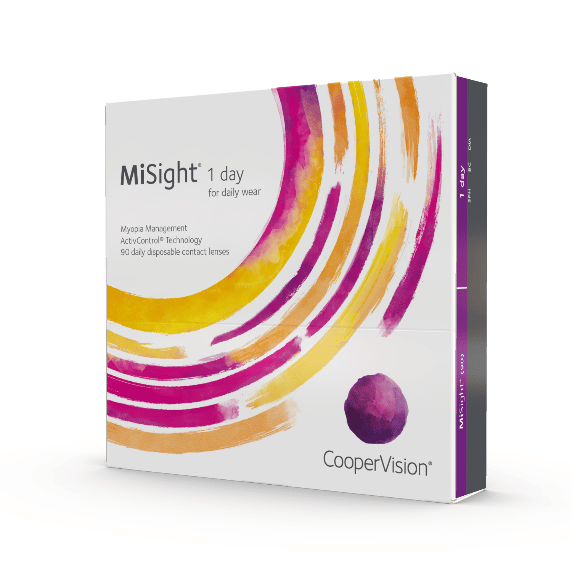 A separate study examined the optical designs of the same two lenses to better understand clinical reports of MiSight® 1 day's superior image quality. Image Quality Characterization of Myopia Control Contact Lens Designs (Richards J., et al.) computed point spread functions, image quality, and simulated retinal images for a model young eye for a range of pupil sizes. Researchers found that the combined effects of the blur circles from ACUVUE® Abiliti™ 1-Day's central +10D coaxial zone and its non-coaxial rings introduced image degradation across the entire pupil range.The MiSight® 1 day lens, which is designed with a dedicated, clear vision central zone, ensures high image quality. The investigation was conducted by Indiana University and presented at the 2023 Association for Research in Vision and Ophthalmology (ARVO) Annual Meeting.
MiSight® 1 day is the first and only soft contact lens approved by the U.S. FDA and China NMPA to slow the progression of myopia in children aged 8-12 at the initiation of treatment. CooperVision also offers a range of orthokeratology designs and spectacles with Diffusion Optics Technology™ for myopia management, which are currently available in select markets.
Click HERE for the full press release and references.