Events Search and Views Navigation
March 2023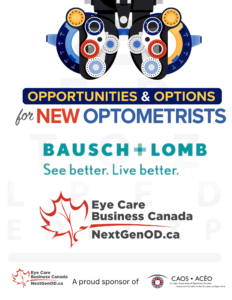 Join NextGEN OD Canada ambassadors for this event - Live @ University of Waterloo or online through a ZOOM webinar. Your choice. Joing young Canadian ODs and optometry students from Canada and also those in the US. Registration is now open.
Find out more »
April 2023


Join FBC as we talk to Dr. Patrick Gooi about innovative treatments for glaucoma. One of the new and exciting prospects in the treatment of glaucoma is called MIGS, or Minimally Invasive Glaucoma Surgeries. MIGS devices can be helpful in managing intraocular pressure in the early stages of glaucoma, thereby reducing patients' reliance on medication. In addition to MIGS, we will discuss other innovative treatments being investigated.
Find out more »


Diversity & Inclusion - April 17, 7-8:30PM Managing Mental Health - May 1, 7-8:30PM Motivation at Work - May 15, 7-8:30PM Respect in the Workplace - May 29, 7-8:30PM Effective Communication Techniques & Tips - June 12, 7-8:30PM **Please note that you must be an active AAO member to attend and that registration is limited. Registration Opening Soon!
Find out more »
+ Export Events