IRIS Aligns with Canada's Top Influencers – The New IRIS Ambassadors
Wednesday, September 30 2015 | 00 h 00 min | Press Release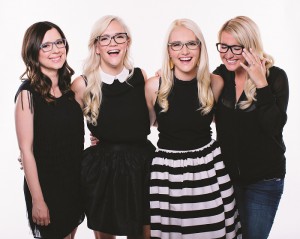 Vancouver (September 25, 2015) — IRIS The Visual Group is excited to announce the launch of their new Ambassador Program with some of the nation's top Millennial Influencers. Mommy, Wife and former MD, Monika Hibbs started her blog, MH By MONIKA HIBBS, as a creative outlet to share her knowledge while studying medicine. She now blogs full time about a lifestyle inspired by fashion, beauty, design, family, and all things beautiful.
Lauren and Mariel Armstrong are the chic and sophisticated sisters behind PARTYSKIRTS. Lauren and Mariel co-founded PARTYSKIRTS when they received an overwhelming response to the
PARTYSKIRTS they designed for themselves to wear. PARTYSKIRTS are now a global phenomenon worn by those who believe in celebrating life. Crazy Style Love is a fashion blog authored by Jenny Jovanovic — "a regular woman with a regular career, body and budget". Her blog shares her personal style along with expert tips and tricks on how to look (and eat!) your best on a budget.
The new Ambassadors will be endorsing IRIS through several online and offline activations this Fall, highlighting new fashion trends in eyewear, as well as attending special IRIS events and promoting eye health through regular eye exams.
"The Ambassadors will humanize the IRIS brand through their fun and vibrant personalities and potentially draw in new customers, previously unaware of what IRIS had to offer," says Melanie Hajjar, Director of Marketing, IRIS. "IRIS is thrilled to work with Lauren, Mariel, Jenny and Monika. They are true Influencers whose engaged followers look to them for fashion, lifestyle and health inspiration."