WOODONE Inaugurates New Wood Production Facility
Friday, November 25 2016 | 00 h 00 min | News, Press Release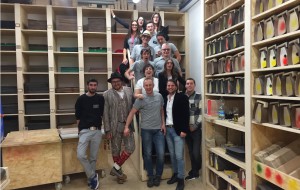 WooDone strengthens its position in the eyewear industry and confirms the uniqueness of the brand and its products by inaugurating the new Wood Production facility near its headquarters in Varna (Bolzano). A single hub – 2,000 sq.m and an overall investment of 2 million Euros – strongly desired by the company for its wonderful Made in South Tyrol production.
The project is based on continuing research in production technologies and treatments. These values have been transferred to the concept for the headquarters by designing pleasant rooms fitted with modern equipment, where space is used for the entire production cycle of all the lines in the WooDone family.
The premise with views of the Dolomites is where all the WooDone collections will be produced: Wood, Nature, and Dolomites by WooDone – "handmade in South Tyrol" made from a single piece of certified wood from Alto Adige – the MyWoodi styles, and the Robin Wood bowties.
The WooDone family is strengthening its market position while remaining true to its area of origin, skillfully blending traditional values and creative innovation.
With 30 people on its payroll, 20 of whom dedicated to the production of more than 25,000 units per year, the company's products are sold in more than 3,500 stores around the world today; sales totaled approximately 4 million Euros,  75% of which generated by exports.
Click HERE to read full press release.