Transitions Announces Grand Prize Winners of "Sunrisers Contest"
Thursday, September 28 2017 | 00 h 00 min | News, Press Release
Pinellas Park, Fla. – Transitions Optical has named Kaleigh Nevin of Vancouver, BC the grand prize winner of its consumer Sunrisers Contest, and Airdrie Eyecare Centre of Airdrie, AB as the grand prize winner of its eye care professional Sunrisers Contest.
The contest, which ran from May 15, 2017 until August 6, 2017, gave consumers and eye care professionals a chance to win a grand prize trip that allows them to experience some of the world's best sunrises. Business Law student Kaleigh Nevin's creative video submission for the consumer contest earned her the grand prize trip to Machu Picchu, Peru to see one of the world's best sunrises from the Sacred Valley. Airdrie Eyecare Centre, who received the most points for the eye care professional contest, won a trip for two to attend Vision Expo West 2017 and a helicopter ride at sunrise over the Grand Canyon.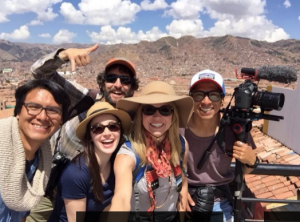 Kaleigh Nevins (brunette with hat in center) in Peru with her sister and Transitions film crew.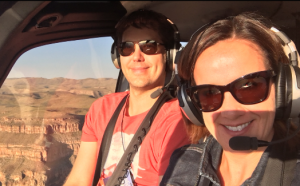 Drs. Jared Long and Amy Forest take a helicopter ride over The Grand Canyon.
Click HERE for the full press release.