Transitions and the OAC Announce Students of Vision Scholarship Winners 
Thursday, November 16 2017 | 00 h 00 min | News, Press Release
PINELLAS PARK, Fla. — Transitions Optical and the Opticians Association of Canada (OAC) are proud to announce the winners of the 2017 Students of Vision Scholarship program: Arleene Anes, Amelia Corfield and Sophie Turmel. Anes, a student optician at the Northern Alberta Institute of Technology, will be awarded the grand prize scholarship of $2,500, Corfield, also a student optician at the Northern Alberta Institute of Technology, will be awarded a scholarship of $1,500, and Turmel, a student optician studying at Cégep Garneau, will be awarded a scholarship of $500.
Student applicants were tasked with creating a presentation demonstrating what sun protection means to them, as well as how they will promote sun protection solutions in their field by crafting a video, presentation or essay. Submissions were reviewed by a panel of judges and evaluated based on their demonstration of creativity, strategic thinking and ethics.
Anes developed a creative, hand-drawn educational video that visually illustrated important facts about sun protection with a verbal explanation of the content, demonstrating a strategic approach to educating patients about sun protection solutions. Corfield compiled a comprehensive presentation reviewing the necessary reasons for protecting the eyes and skin, summarizing key points to ensure patient understanding. Turmel also submitted a video that highlighted the key points of sun protection solutions, including potential risk factors, results of sun damage and solutions for prevention.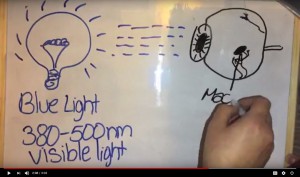 Grand prize winner Arleene Anes created a hand-drawn video to help explain the importance of utilizing Sun Protection Solutions for the eyes and skin.
The scholarship theme of Sun Protection Solutions was inspired by recent research from Transitions Optical, conducted by Wakefield Research, showing that:
While Canadians are equally as concerned about protecting their eyes from the sun's UV rays as they are their skin (88 percent each); they are more likely to take steps to protect their skin than their eyes.
Millennial patients, specifically, could benefit from education, as they are the least likely generation to be concerned with sun protection and generally less likely to see their doctors.
There is also confusion about blue light, which is at the forefront of people's minds because of the increased use of digital devices. Most people don't know (including 83 percent of Millennials) that the sun is the largest singular source of harmful blue light, scattering it through the atmosphere and emitting over 100 times the intensity of electronic devices and screens.
Click HERE for the full press release.