Contact Lens Institute Shares Additional Findings Ahead of May 3rd Webinars
Wednesday, April 27 2022 | 11 h 53 min | Events, News, Press Release
Ahead of its live webinars for the eye care community, the Contact Lens Institute (CLI) shared additional findings from its recent research with nearly 1,000 U.S. adults who require vision correction. These include practice-building insights on significant opportunities with older patients, barriers to wear, and expectations for technological advancements.
The new data builds on a range of information made public earlier this month by the industry association as part of its See Tomorrow initiative (SeeTomorrowNow.com), which is designed to help practices understand and thrive as consumer beliefs and behaviors evolve. The research—and pearls on how to apply it for patient and practice success—will be explored in depth during CLI's "Revealed!" webinars on May 3rd at 6 pm EDT and 9 pm EDT. Free registration is now open for the earlier session and the later session here.
The latest discoveries include:
Presbyopia remains a massive opportunity for the eye care community to increase value to patients—and practice growth—through contact lens fitting. Among all adults ages 55+, 67% use prescription glasses and 38% use reading glasses, but only 6% wear contact lenses. In the same age group, only 4% recall their eye care practitioner having discussed contact lenses as a potential alternative to readers during their last two office visits.
Investment in myopia management education is breaking through. Vision-corrected parents of children under 18 are more than twice as likely to know that contact lenses that slow the progression of myopia are available today compared to parents of older children.
Significant upside exists to inform patients about contact lenses that offer novel benefits. Only 5% of vision-corrected adults believe that lenses are available that administer drugs directly to the eye, and just 56% understand that coloured lenses are an option.
Two of the top barriers to contact lens wear are addressable by eye care professionals. With 1 in 3 people (34%) stating they don't wear contact lenses or use them more frequently because of comfort issues, practitioners should think about this from the initial fit; positive first impressions increase retention. Another 1 in 5 vision-corrected adults state they don't wear contact lenses or use them more frequently because care is perceived to be difficult, yet CLI's The EASY Way program and fast-growing options such as daily disposable lenses prove otherwise.
Consumers see augmented reality (AR), virtual reality (VR), and fitness tracking-enabled contact lenes as rapidly moving from science fiction to commercial availability. Within the next five years, 24% of adults believe that AR/VR contacts will be available and 25% believe that health monitoring lenses will be obtainable—presenting practitioners with door opening opportunities to discuss the benefits of current contact lens technologies and benefits.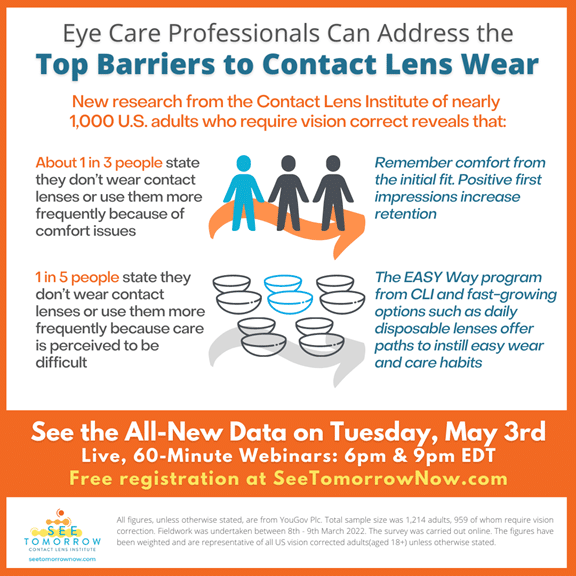 Click HERE for the full press release.