OPTI Munich 2022 Celebrates Its Return
Thursday, May 19 2022 | 13 h 22 min | Events, News, Press Release
SWV Strategy with Vision, an independently owned Consultancy and Market Research Company, specializing in the eyewear and eye care business, routinely provides perspectives on major international trade shows. Below is their report on Opti Munich. The report has be edited for length and relevance to the Canadian market.
COVID Impact
Normally OPTI takes place in January. This year due to Covid restrictions it was moved to May two weeks following MIDO. While expectations amongst the exhibitors were for moderate to low attendance, the impressions from the results were quite positive. More visitor than expected attended the show.

Due to the reduced number of exhibitors only four Halls were occupied, compared to six halls pre-COVID.

Two large ophthalmic lens companies reported the reason for attending the show was to thank faithful customers for staying loyal during COVID. The atmosphere on one stand, where beer and wine were flowing on Friday evening, was festive. ECPs enjoyed being thanked!

Essilor did not exhibit at the show, while Zeiss had a large presence. (editors note: ZEISS is a German-based Company).

Ophthalmic Lenses Sustainability Issues
Sustainability in relation to ophthalmic lenses was a subject brought up in meetings. SWV was told that with the present technology it is not possible to recycle organic lenses to make new ophthalmic lenses. Therefore, the focus is on combining fossil-based materials with corn.

The other focus is to reduce the CO2 footprint of an ophthalmic lens. A lens monomer or finished product can travel great distances round the globe before it actually ends up in a frame purchased by a consumer.

In addition to the transport costs a great deal of material ends up as waste, when it is generated on surfacing machines. One way of reducing Carbon footprint suggested is 3D printing of lenses at the retail level closer to the final purchase location. 3D printing up to now tended to be seen as a way to produce lenses with high dioptre or special shapes, which are seldome requested. SWV understand that solutions are being worked on by leading manufacturers of 3D printers.

Equipment – What's New? AI Enters the Discussion
Opticians mentioned how impressed they were with the precision of the refraction and screening equipment shown at OPTI. They were very pleased as to how problem free the equipment is to use and how potential measurement errors can be avoided.
The top of the range OCT (Optical Coherence Tomography) shown by Visionix, the Optovue Solix, is an example. The images, even for a person not trained in looking at medical images, are of a staggering precision. In total Visionix showed three OCTs on their stand, one was less expensive than the Solix, with less functions and one is completely automated.
Visionix recently acquired Optovue, a US based manufacturer of high-end optical equipment. The main brand of the total company now is Visionix. The product families will keep their names under the main brand. Persons wanting information on products from Briot, Weco, Luneau Technology, Optovue and Nextsight will in future have to go to the Visionix website.
Brains for Hire were offering a process using Artificial Intelligence. A photograph of a scan of the eye is uploaded onto an Internet platform This scan is analysed using artificial intelligence and if the results seem to warrant a visit to an Ophthalmologist is recommended.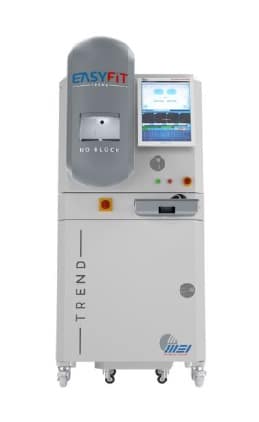 Mei (Italy) demonstrated a blocker-free automated process – the Mei EasyFit Trend. The demonstration was very impressive. The equipment is aimed at retail level edging labs. The machine uses milling technology to cut the lenses to the shape of the frame without water and pads. "Total quality control" is integrated in the equipment, the built-in measurement tools check the optical parameters needed and reduce the need for further quality control steps.
Click HERE for the full press release.
See other reports from SWV on global optical shows.