MIDO 2023: 1,000 Exhibitors Are Expected
Thursday, January 19 2023 | 10 h 48 min | Events, News, Press Release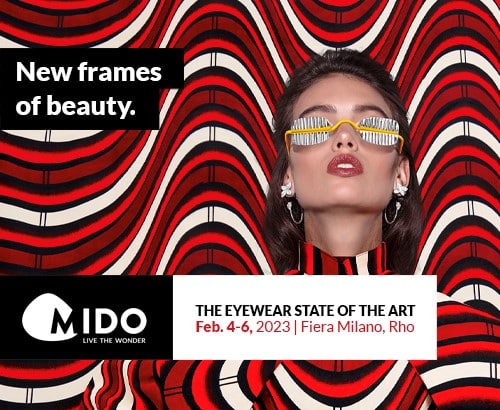 Over 1,000 exhibitors are participating in MIDO, set to open Saturday, February 4,at Fieramilano Rho. The exhibiting companies are arriving from around the world and represent the entire eyewear industry supply chain. Germany France, Austria, Spain, Denmark, USA, UK, Japan, Hong Kong, India, Saudi Arabia, Oman, Turkey and even Mauritius are all on the roster.
A multitude of activities will animate the three days of the show. Among the guests on the calendar of events in the OTTICLUB space in Pavilion 3, is Nick Cerioni, Creative Director and celebrity stylist. Cerioni will be the guest speaker at the How to? cycle round table entitled "How to define a look and a personality through eyewear. Styling as an opportunity for opticians", taking place Saturday, February 4 at 1 pm in the OTTICLUB space. Other How to? topics include the interior design of retail optical shops with architect Martino Berghinz (Sunday, Feb. 5, at 3 pm at OTTICLUB) and communication and creativity with researcher Luisa Aschiero and multi-disciplinary artist Felice Limosani (Monday, Feb. 6, at 1 pm at OTTICLUB).
Back to Saturday: on the calendar at 10:30 am, the ANFAO Empowering Optical Women Leadership project in support of women on a leadership career path in the eyewear industry. The meeting will be moderated by journalist Barbara Serra, sponsored by Fondazione Bellisario, and produced in partnership with SDA Bocconi [School of Management].
Sunday Feb. 5, at 2 pm in the Fashion District square (Pavilion 1), MIDO's annual award ceremony in recognition of outstanding optical shops, exhibitors and, starting this year, industry companies. Alongside the traditional BeStore Award, for optical shops that offer an outstanding shopping experience and customer service, and the Stand Up for Green award, in its 2nd edition and assigned to the stand most focused on environmental stewardship, this year, for the first time, the CSE – Certified Sustainable Eyewear award will be presented.
In conjunction with MIDO 2023, at 4:30 pm on Saturday, Feb. 4, in the Fieramilano Rho Auditorium, the "Ophthalmology, optics and optometry: new technologies and the future" conference will take place, organized in partnership with MIDO by the publisher of b2eyes and EyeSee.
To always be up to date on MIDO news, visit www.mido.com and the official social channels Instagram (@mido_exhibition), Facebook (@MIDOExhibition), Twitter (@MIDOExhibition) and LinkedIn
#MIDO2023 #livethewonder.
Click HERE for the full press release.