Rosemary Kavanagh Awarded the Dayton Forman Award from CNIB
Tuesday, November 8 2016 | 00 h 00 min | Awards, News, Press Release
​TORONTO —CNIB awarded the Dr. Dayton M. Forman Memorial Award for 2016 to the late Rosemary Kavanagh for her dedication and tireless efforts over the years to ensure that people who are blind or partially sighted had access to equitable library service.
The award, established by the CNIB Library Board in 1996, recognizes outstanding leadership in the advancement of library and information services for Canadians living with vision loss or print disabilities.
Rosemary constantly imagined new ways to offer services for CNIB library users and, more generally, people with print disabilities. She was a strategic thinker who was passionate about the role of non-profits in societal development and change, particularly as it related to people with vision loss.
Rosemary is remembered for her commitment, passion, and her achievement in helping advance library services for those with print disabilities at home and abroad.
To read the full press release, click HERE.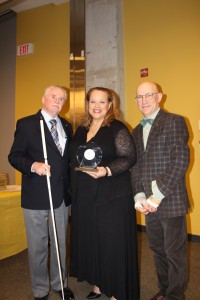 Caption: Presentation of the 2016 Dr. Dayton M. Forman Memorial Award to Laura Kavanagh, daughter of Rosemary Kavanagh winner of the award.
[left to right] Jim Sanders, C.M., Past President and CEO, CNIB; Laura Kavanagh, daughter of the late Rosemary Kavanagh; Kevin Burns, Member of the CNIB National Board of Directors