Newest AMERICAN EYES Campaign Revealed
Friday, March 2 2018 | 00 h 00 min | News, Press Release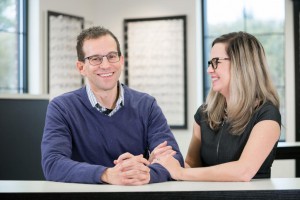 SAFILO unveils its latest American Eyes marketing campaign in celebration of its Elasta and Emozioni ophthalmic collections featuring the husband and wife owners of Wichryk Eye Associates of Macungie, PA.
The Spring/Summer 2018 American Eyes campaign picks up where last year's campaign of the same name left off. In celebration of the 2017 reintroduction of Safilo's flagship Elasta and Emozioni ophthalmic collections, a marketing campaign as well as a captivating photo exhibition, timed to Vision Expo East, paid homage to American opticians  across the country – celebrating the people, optical shops and landscapes they called home.  A total of eight Safilo accounts were included based on their unique locations and high regard for the Elasta and Emozioni collections, of which, Wichryk Eye Associates of Macungie, PA was featured. The husband and wife team who own the practice, Antoni Wichryk, OD and Geena Wichryk, an ABO optician, were asked to star exclusively in this year's campaign due to their love of Made in Italy product and their affinity for the Elasta and Emozioni brands.  Each dons the eyewear in the American Eyes print ad campaign and promotional video which breaks this week on Safilo's mysafilo.com b-2-b website and GalleriaSafilo.com.
As a thank you for participating in the campaign and closing their offices for a full day to shoot, Safilo made a sizable donation in the name of Wichryk Eye Associates to the Myotonic Dystrophy Foundation, an organization near and dear to the couple's heart.  Geena Wychryk and the couple's two daughters both suffer from this genetic disorder that affects many parts of the body and is a complicated condition as the symptoms and disease progression can vary widely from person to person.
Click HERE for the full press release.