Plastic Plus: Defiantly Independent, Proudly Made in Canada
Friday, October 5 2018 | 08 h 30 min | Optik Magazine, Practice Management
By Mark B. Matthews
Plastic Plus is the largest Independent Optical lab in Canada by far. Plastic Plus owner Paul Faibish provided Optik with a lab tour of their new facility in Toronto and spoke candidly about the challenges of Independent Wholesale optical labs and his aspirations for Plastic Plus.
Optik: Can you provide an historical perspective on Plastic Plus? When was Plastic Plus launched? 
Paul Faibish:  My father had a large optometry practice, and in 1974 he decided to invest in a lab to lower his cost of goods and started the business in the basement. Initially it wasn't doing very well. We were doing about 100 jobs per day. In 1980 I didn't get into Law School, and my father said, "Paul, take it over. Try it for a year." I did so without taking one penny of salary until 1983. Then things began to turn around and business started getting better. In 1985 we bought the building on Leswyn Drive (Toronto).
We had our ups and downs, but we grew the business constantly and then in 2008 we doubled the size of the lab to 13,500 square feet, which I thought would last us forever.
However, in the last 9, 10 years our business doubled, our staff doubled, and we ran out of space and needed more production throughput. So, we made the decision to move to this larger facility. Right now, we're doing approximately 1,000-pair a day in our new facility.
Optik: Moving an operating optical lab is no small feat, even if it's to the building next door.  What were the challenges?
P.F.: We moved the lab in May 2018. We only had three hours downtime and worked like mad. We ran full shifts until midnight and into the early morning to keep up with it.  We planned well, and were doing great, but we did run into technical problems with new equipment which caused some service issues. We recovered quickly but it was a challenge that I don't want to revisit.
Optik: Plastic Plus was an early adopter of free-form. Tell us about your technology.
P.F.:  We were the first independent lab in North America to do free-form. There was a patent issue which delayed introduction of free-form in the US until 2007, but we were doing free-form here in January 2005. A lot of the equipment in our lab was the first in North America. Some, the first in the world.
We work very closely with Satisloh. They have been our primary supplier of surfacing equipment since the late '80s but we've also incorporated Schneider and OptoTech equipment. Virtually all our edging equipment is MEI (Italy). We were the first lab in the world to have their blockless edging systems. We are very loyal to our vendors. We basically have the same vendors now that we did years ago.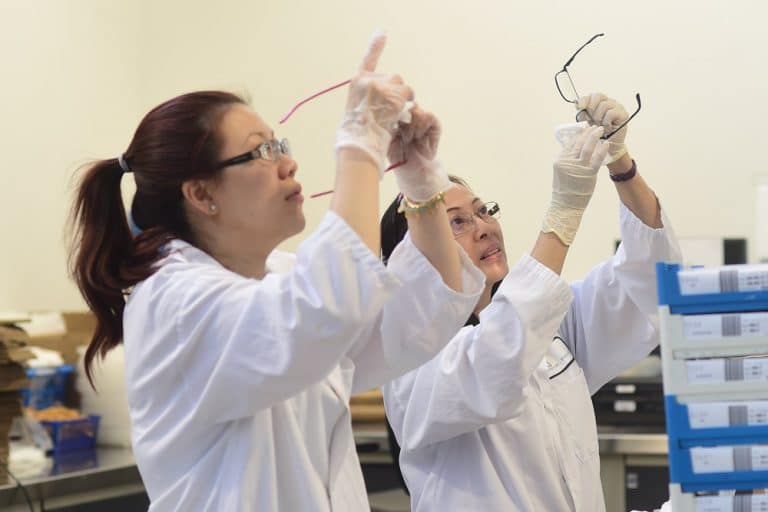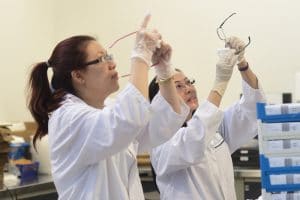 Optik:  What is your turnaround time now?
P.F.: We can turn out non-AR uncut the same day, AR uncut is two to three days, edging one day longer. We're hitting that metric now well over 90% of the time. Yes, we could get it a lot cheaper offshore but it's minimum 5 to 8-day delivery. In Canada, I don't think any other lab can touch our turnaround time.
Optik: Who are your main lens suppliers and what lens designs that you offer?
P.F.:  We have the Canadian exclusivity for Seiko and Rodenstock. We also do a lot of business with IOT, a Spanish company. They're the largest provider of non-branded, free-form lenses in the world. We just picked up the Camber Lens from Younger. In some cases, a Seiko lens works best, in some cases a Rodenstock design works best, and in a lot of cases the IOT design works best. We can tailor a portfolio of lenses for any office at any price point.
Optik:  Tell us about your marketing and sales efforts.
P.F.: We actually have no sales reps! The acquisition cost of clients does not, in our opinion, warrant the expense. I'm not being arrogant, but we have enough people knocking on our doors. Customers always look to include an independent lab in an RFP (Request for Proposal). We don't get every contract, but we're bidding all the time across the country.
We get a number of inquiries every week from ECPs across the country.  They're coming to us either because they realize they don't want to support the competition, they're not happy with the offshore service, or they want to deal with an independent.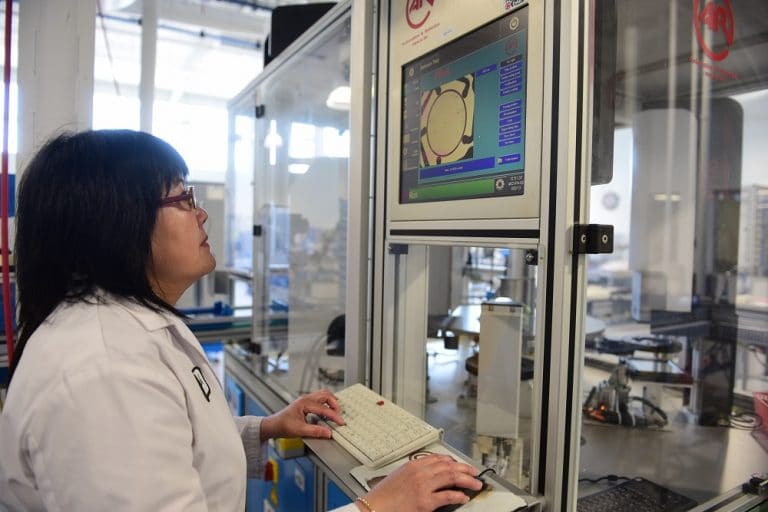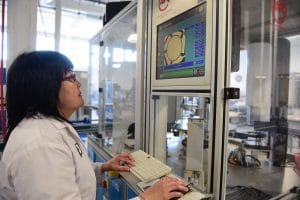 Optik: Do you consider yourself to be a regional or national lab?
P.F.: Neither—we're international! We do work right across the country from the Northwest Territories to Vancouver Island to Newfoundland. About 15% of our work is for export.  We have a number of customers in the United States and in the Caribbean. We have a loyal customer base who are strong supporters. Most came to us because of free-form and the fact that we could do good digital work with great designs at a reasonable price.
Optik: How do you position yourself against the major competitors?
P.F.: There's three things. We push the fact that we're independent. My father was an OD, I was an optician. My son was raised in an optical house, so we're independent.
Number two, we do all the work in Canada. We don't send anything offshore. We buy all our goods and services Canada. We provide employment for Canadians. We pay all our taxes in Canada. We do it all here. If there were a few thousand companies like Plastic Plus in this country, our economy would be a lot better.
Number three, we're not the competition. I ask my customers, "If I open a Plastic Plus Optical beside your practice and dispense glasses, would you give me any lab work?" Those are the three points we put across.
Optik: What is the future for truly independent wholesale Optical labs? What advice would you give to those that struggle in smaller labs?
P.F.: A Digital lab requires a ton of capital and a lot of knowhow. It's a lot of money to buy the equipment. You need redundancy and it's not plug-and-play. You need fulltime IT people and fulltime process people. Unfortunately, a lot of independents don't have the financial wherewithal or the desire to go to the bank and mortgage their souls to invest in digital.
Optik: On our tour, we saw jobs labelled for Malawi. Tell us about your pro-bono work.
P.F.: We provide generous support to various missions. We just finished work for Ghana and Jamaica and Malawi is starting. And I can't say no to those things. We also are the official supplier to the Ontario Eye See…Eye Learn program, providing no-charge jobs for ODs in the province who provide their service to Junior-Kindergarten kids. Two years ago, we went to an inner-city school and did no-charge scripts for the kids. We brought optometry students in from Waterloo and we refracted several hundred kids. We organized the event, paid for it, and did the glasses as well.
Optik: What are your growth objectives? Are you aiming for 3,000 jobs a day?
P.F.: We don't need 3,000 jobs a day. We have enough irons in the fire to sustain and grow our business. The sales are coming in. My philosophy is, "build it and they will come," and they are. There're even more opportunities in the States, and with our good turn-time in the new facility, we're getting more business from our existing customers. There are not too many manufacturers that can put out a digital job AR-coded within 48 hours, 90% of the time. We still see huge opportunities for growth. If there weren't opportunities for growth and expansion, we would have stayed in the old building.
Optik: So here you are with your multi-million-dollar investment. Last man standing.  Do you pass it on to the next generation, or exit?
P.F.:  We actually had a very generous offer to sell the company about 9 years ago. My wife and I talked about it ad nauseam for about 6 months. At the ninth hour, we turned it down.  It was definitely retirement money see-you-later, but we didn't sell for a couple of reasons.
Number one, I love what I do.  I can't wait to come to work in the morning, and I don't know if I would fit within the corporate mould. In addition to that, my son is now in the business, doing a very good job and we don't want to take that away from him.
Optik: Any final comments?
P.F.:  Again, we push the fact we're independent. We push the fact that we do all the work in Canada. What we do puts money back into the Canadian economy.
And we're not the competition.  We're not selling glasses against our customers whether it be online or brick-and-mortar.
Optik:  That's your pitch?
P.F.:  That's right.