Reframe the Game with Virtual Eyestyling
Friday, July 3 2020 | 08 h 26 min | Latest News, Optik Magazine, Podcast
Wendy Buchanan had successfully leveraged her opticianry and image consultancy qualifications into a successful mobile dispensing business. She would visit clients at their homes or offices, diagnose their style type and dispense unique independent eyewear frames, often multiple pairs, that were the perfect compliment to their wardrobe styles and facial features. On March 17, 2020 everything changed.
Like all optical dispensers, the provincial "stay-at-home" directives put an abrupt end to Wendy's business approach. After two-weeks of catching up on those mundane tasks everyone puts aside until a particular motivation strikes, it came to her: Why not set up online ZOOM appointments and pursue her business with virtual eyestyle appointments?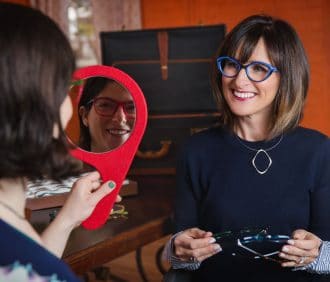 Optik Magazine Publisher, David Pietrobon, interviews Wendy to get her back story, discover how virtual eyestyling works and what advice she offers to eye care professionals considering this new innovative approach.
With unbridled entrepreneurial spirit, Wendy plunged into the challenge of online dispensing, adapting her craft to the new reality of COVID social distancing and stay home guidelines.
The Results?
Suffice to say that Virtual Eyestyling will become a mainstay of Wendy's practice even long after the covid situation resolves. She has discovered, albeit not by accident, a formula for deeper customer connections, more multiple pair sales and economic efficiencies.
Be Spectacular™ Image and Eyewear Styling for Optical Fashionistas
Combining her expertise in fashion and opticianry, Wendy has developed a training system and tools to help eye care professionals stand out from their competition, increase referrals and magnify profits through personal eyewear consultation with clients. Learn more about the program.
Related Articles:
Wendy is a frequent contributor to Optik Magazine and OptikNOW, providing eye fashion tips for discerning eye care professionals looking to differentiate their optical boutique.

Spec Styles for Every Personality
Spec Styles for Summer
Seneca College Hosts Annual Trade Fashion Show